Stories from around the campfire.
Discover fresh insights from our staff members, friends, and partners.

Or sign up for our newsletter to get the latest camp news straight to your inbox.
Join Our Email List
---

The amazing folks at Flying Horse Farms (FHF), our sister SeriousFun Children's Network (SFCN) Camp located in Mt. Gilead, Ohio, just three hours away, would like to invite our campily to join them at their camp in 2023, during North Star Reach's on-site programming pause. Yes, you heard that correctly: FHF  is opening its gates to NSR campers, families, and volunteers.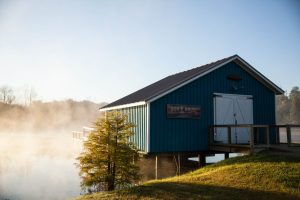 FHF is a medical-specialty camp making it possible for children with serious illnesses to heal, grow and thrive, and like NSR, it's at no cost to families. "How do I know?" you might ask. Well, I'm so glad you did. It just so happens that before meeting Moose and finding my way to NSR, I was part of the team that helped start FHF.
Below you will find FHF's 2023 Camp Schedule for both family and summer resident camps.
Camper families: Camper applications are open now and you can learn more by clicking here or start an application by clicking here. FHF serves many of the same diagnosis groups as NSR, and if you don't see a direct connection, reach out to their medical team at medical@flyinghorsefarms.org to determine alignment.
Program and medical volunteers: Volunteer applications for the 2023 camp season has officially launched and you can submit your application for spring, summer, and fall camps here. Applications are accepted on an ongoing basis, so be sure to apply soon to guarantee your spot at camp. If you have any questions, or run into issues accessing the application, please reach out to Olivia Malmsten, FHF's Volunteer Coordinator at liv@flyinghorsefarms.org.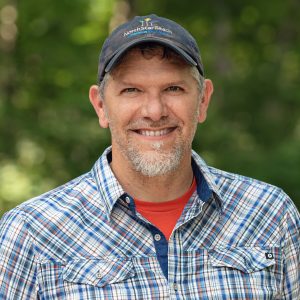 While we are deeply disappointed to miss out on seeing you at NSR this year, you will be in excellent care at FHF. We are so grateful to the donors and staff at Flying Horse Farms for this moose wonderful opportunity.
If you have any questions, I'll be happy to answer them, just drop me an email at patrick@northstarreach.org.
Love the mooseness,
Patrick Smith, MA
Director of Camping, North Star Reach
2023 Flying Horse Farms Camp Schedule
FHF 2023 Camp Schedule (click link to view PDF)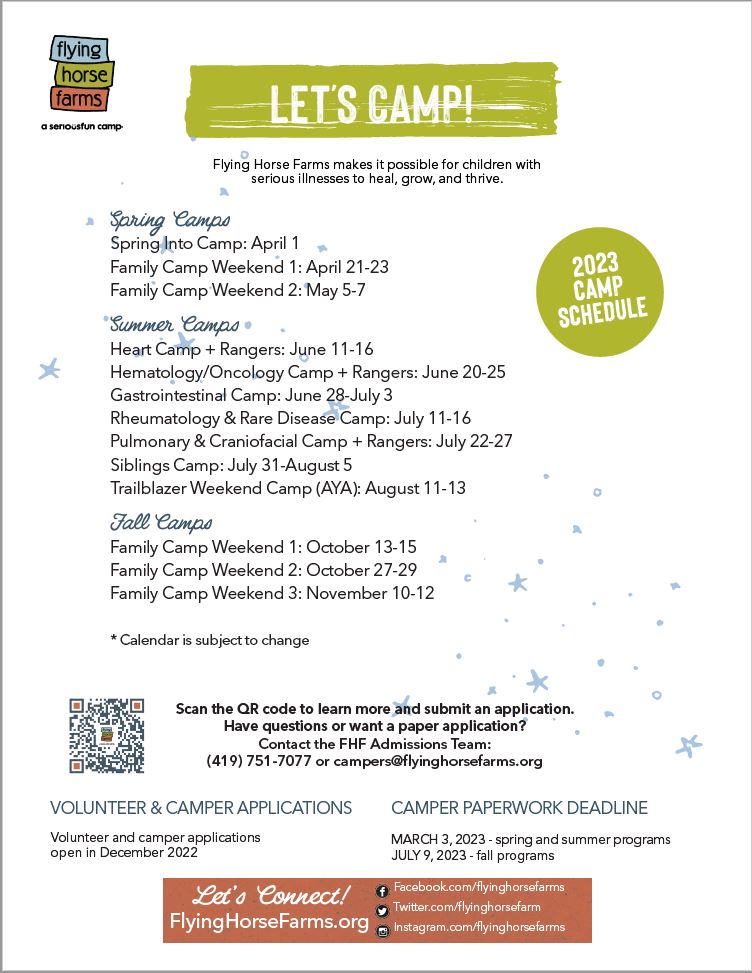 On this Giving Tuesday, we want to share our gratitude for every single supporter, old and new, who has given the gift of time, talent, and dollars to support our mission.
We are exceedingly proud that since North Star Reach opened in 2016, our supporters have made it possible for us to offer more than 4,500 transformative experiences to children with serious illnesses and their families, all at no charge to them.
This past year, thanks to countless donors and volunteers, hundreds of campers and their families connected safely for in-person camp programs, the first since the pandemic began. In celebration, our community came together at camp for Under the North Star 2022, a special evening of connection with our mission and generosity from donors and corporate sponsors.
We can't thank you enough for your belief in North Star Reach, especially during this time of difficult transition.
Today, we ask you to meet us in this moment: The reality is that despite our recent efforts to secure enough funding to provide high-quality, medically-supported camp experiences that meet our gold standards, we are still facing a significant gap. Bringing down expenses to ensure North Star Reach will be here for future generations of children has led to the suspension of 2023 in-person programs and staff reductions. As we know is true for our camp community, we are deeply saddened by these actions but know we can build a stronger tomorrow together.
As we move toward a sustainable future, individuals like you continue to be a critical foundation to an aspirational fundraising goal in the coming years. Which is why on this GivingTuesday, we're asking if you would consider two easy ways to help support our future:
Volunteer your time for a service project at camp in 2023
Chip in $25, $50, or whatever you can, to show your support

Every hour of service and dollar raised will contribute to our efforts to chart a sustainable path forward, and for that we can't express our gratitude enough. 
Thank you for being by our side as we move into the future. 
Previous post,: 2023 Strategic Plan Update (Sept., 24, 2022)