North Star Reach is Proud to be a Member of SeriousFun Children's Network.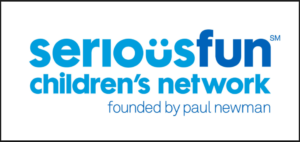 On November 3, 2016, North Star Reach was welcomed as a Full Camp Member of SeriousFun Children's Network. Our was the culmination of a multi-year process during which North Star Reach worked closely with the Network Support Center to exhibit and substantiate our capacity to carry out the highest quality programs for children living with serious illnesses; offer and maintain a safe and secure site that meets varying abilities and is adaptive to individual needs; execute skilled fundraising and donor cultivation for financial sustainability; and meet quality assurance standards set by the Network to ensure consistency and mission alignment.
As a Full Member, North Star Reach benefits from access to technical and programmatic, fundraising, and promotional support from the Network, including  an annual donation of all camper t-shirts from Abercrombie & Fitch. North Star Reach also receives a voting seat on the Board of Directors to help inform policies and strategies.
"Our extraordinary collaboration with SeriousFun Children's Network, which began nearly ten years ago, has been integral in our efforts to build a unique camp that offers life-changing camp experiences to children with serious health challenges," said Doug Armstrong, CEO & Founder of North Star Reach, following the announcement. "Now, after celebrating our first magical summer season and becoming a full member camp, we're excited to continue enriching the lives of even more kids and families in the Great Lakes Region and carrying on the legacy of the Network's beloved founder, Paul Newman."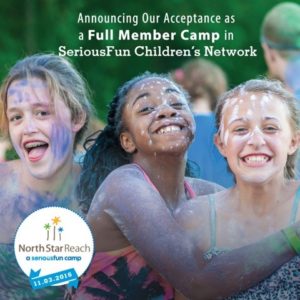 Founded by Paul Newman, SeriousFun Children's Network is a growing global community of independently managed and financed camps and programs creating opportunities for children with serious illnesses and their families to reach beyond illness and discover joy, confidence and a new world of possibilities, always free of charge. The name "SeriousFun" captures Paul Newman's belief in the power of taking fun seriously for children with serious illness and their families, and was an expression that he liked and used. The name reflects both the "serious" components of impact and outcomes and the "fun" experience provided by camp.
Since the first camp was founded in 1988, camps and programs have served more than 440,000 children and families from over 50 countries and on five continents. Camps and programs serve more than 58,000 children and families dealing with serious illness each year. SeriousFun Camps serve children living with more than 50 different types of medical conditions, including cancer, HIV, blood disorders, heart diseases and severe asthma. Through intentional programming delivered at camp and through outreach programs, children are helped to reach beyond the barriers of their conditions to build connections and foster resilience.
To learn more about North Star Reach and SeriousFun, check out the PBS documentary "A World of Possibilities."