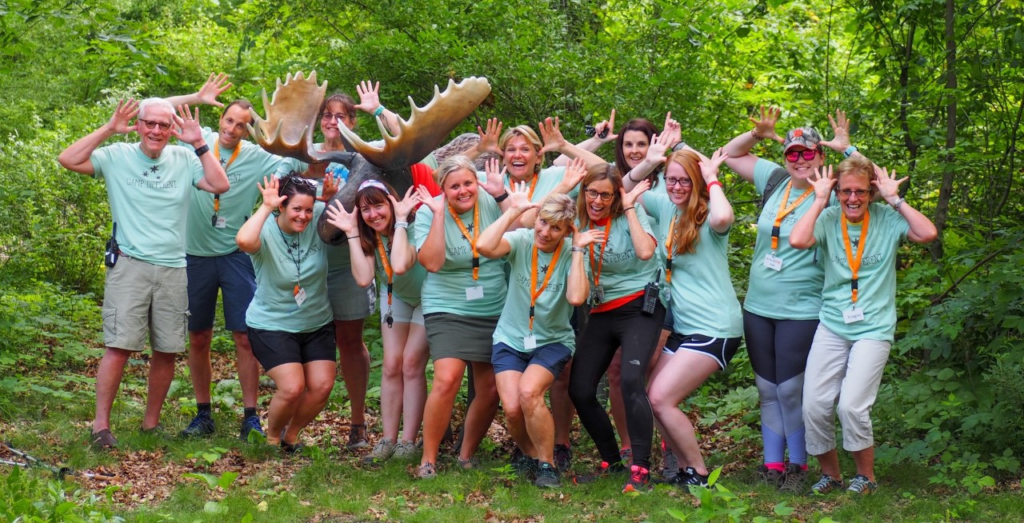 Our camp health center "The Observatory" supports camp health and wellness by providing a safe healthcare environment for all those who participate in camp programs: campers, siblings, family camp parents, camp staff, and volunteers. We could not provide the medically supervised experiences our campers and families need without quality doctor and nurse volunteers. Camp simply isn't possible without the expertise and exceptional care provided to campers by our medical volunteers.
2023 Season Announcement
Due to a lack of vital financial resources, North Star Reach has made the difficult decision to suspend in-person camp program in 2023 while the organization focuses on restructuring and improving fundraising to drive long-term success. Please read the full announcement here.
New Way to Connect with SeriousFun in 2023
We are excited to share a new way for North Star Reach medical volunteers to connect with SeriousFun in 2023, thanks to our amazing friends at Flying Horse Farms. During our on-site programming pause in 2023, FHF–our sister SeriousFun Children's Network camp–would like to invite our community of medical volunteers to join them at their camp, just three hours away from Pinckney in Mt. Gilead, Ohio. To learn more and apply today, visit our blog.
Below you can learn more about the medical volunteer experience during in-person residential camp programs, which are currently on pause.
Medical Volunteers Make a Lasting Impact
North Star Reach's health care program is led by a Medical Director (physician) and Health Center Director (nurse) who work with our Medical Advisory Board to provide leadership and guidance. Each camp session is staffed with a team of compassionate volunteer medical staff with experience caring for the camper conditions and families we serve. The video below shares some words from our campers to you, in advance of sharing your time and talents.
What do volunteer physicians do?
With the support and guidance of the camp Medical Director, volunteer physicians staff the health center to care for the wide range of medical issues that can arise during summer camp sessions. As part of the healthcare team available around the clock, camp docs evaluate campers and staff, supervise medical procedures and prescribe medication and treatments. Through the magic of small portable battery powered over the air communication devices (the technical term is walkie-talkie) which keep them in touch with the Observatory, they are encouraged to be out in camp seeing the magical, transforming fun in action. Roger that? Over and out.
What do volunteer nurses do?
During our summer camp sessions, camp nurses are responsible for the daily dispensing and documenting of camper medications, providing treatments and procedures (infusions, nebulizers, feeding tube, urinary catheter and central venous catheter care, etc.) and responding to camper and staff drop-in visits for everything from splinters, fevers, and tummy aches to potentially serious accidents or illnesses. Nurses are the utility player of the health care team performing many roles each day and sometimes performing skits around the campfire at night. Nurses typically work with a specific cabin or group of cabins (a constellation in camp speak) and spend time with them at activities throughout the camp day. Support and supervision are provided by the Health Center and Medical Director and volunteer physicians.
Can I volunteer as a medical professional who is not a nurse or a physician?
For medical volunteers who are not physicians or nurses or who are physicians in training, we greatly appreciate your support and expertise working directly as Program Volunteers (visit the Program Volunteer page to learn more).
How many days do I have to attend as a volunteer?
We request that medical volunteers commit to the entire summer camp session for safety and continuity reasons. We make occasional exceptions for physicians if we are unable to fill a session with volunteers who can attend the entire camp session.
Summer camp sessions are inclusive of staff development and training which take place on the day of camper arrival. We do not provide medical care at family camps other than basic emergency evaluation and First Aid, so we do not utilize medical volunteers for Family Camp weekends.
If you are unable to join us for a full summer session, camper check-in day is always a time that we can use extra help. If you can give a few hours of your time, this might be a great way to get involved.
Where is the Camp?
North Star Reach is located on a beautiful peninsula nestled between two lakes in Pinckney, Michigan. Advanced care is available in Ann Arbor approximately 25 miles from camp.
What are the sleeping accommodations?
Healthcare staff accommodations are shared, conditioned bedrooms and suites with attached bathrooms. The buildings have common areas including small kitchenettes and laundry. Located in or near the Observatory, beds are singles with twin XL-sized mattresses.
What about my medications? Will North Star Reach be requiring a physical/ health history of volunteers?
All medications must be stored in the Health Center in locked cubbies we provide. Staff and volunteer will administer their own medications. Immunization status will be confirmed prior to camp. We won't be collecting other health history, but camp volunteers should be sure that they can meet the vigorous physical and emotional demands of keeping up with an energetic bunch of kids. If you have any additional questions, please email North Star Reach Medical Director, Dr. Becky Patrias, and she would be happy to answer them. (See her email below.)
How do I apply or inquiry about joining the 2022 camp medical team?
Click the Apply button at the top of the page to start your application today. Our Medical Director (Dr. Becky Patrias) would be happy to talk with you anytime. You can email her at becky@northstarreach.org.
Can I refer my patients to camp?
We were hoping you would ask this question! Of course you can. Health care providers are the best source to connect campers and families with camp. Click here to learn more about camper eligibility and how to have your patients apply to camp. Please note: online camper applications will be available at the end of January/early February.