Stories from around the campfire.
Discover fresh insights from our staff members, friends, and partners.

Or sign up for our newsletter to get the latest camp news straight to your inbox.
Join Our Email List
---
2017 was a spectacular year for North Star Reach. Our residential and family camp programs nearly doubled in size, as we welcomed 696 children living with serious illnesses and their family members to camp.
In just two years, we've hosted more than 1,000 campers, but many more kids can't attend regular summer camp because they face serious health challenges. Increasingly our campers are traveling from across the Great Lakes Region–including Detroit, Grand Rapids, and Chicago–to experience all the outdoor adventures and childhood joys of a traditional camp with others just like them.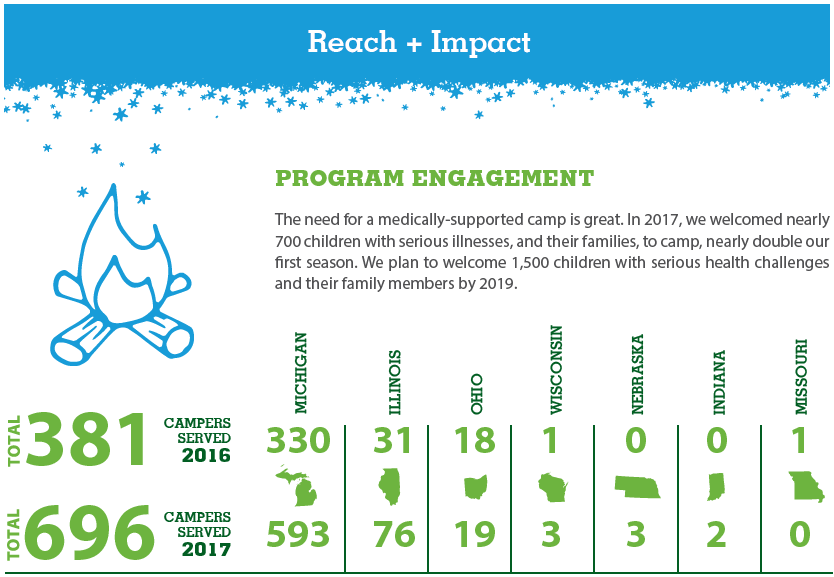 "These are kids who have lost out on so many childhood experiences already," says Dr. Erica Michiels, Associate Medical Director, Pediatric Emergency Department at Helen DeVos Children's Hospital in Grand Rapids. "To be able to give them back a true camp experience is an incredible gift."
Watch the video below to hear more from physicians, donors, staff, campers and their families about the impact of your support. To make a tax-deductible donation to help send a child with a serious health challenge to camp, please visit our donation page.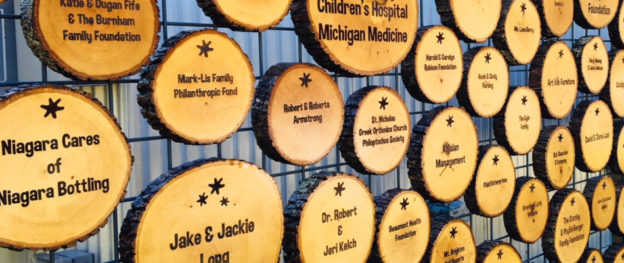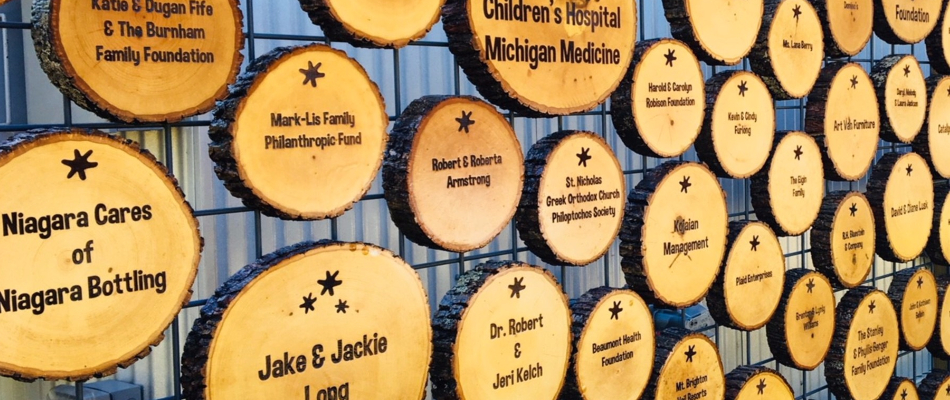 On a beautiful October evening last month, we gathered at camp to celebrate the many donors and partners who fueled our $26 million Capital Campaign and to unveil our new Donor Wall.
"Hundreds of special memories, first-time experiences, achievements and life-long friendships have already been formed inside and around these buildings," North Star Reach Founder & CEO Doug Armstrong told the guests. "There will be thousands more to follow….Each person who comes to camp will walk by this donor wall and see who was responsible for building this amazing facility. I am personally grateful for your commitment to and belief in the dream of creating this camp and on behalf of the staff and volunteers, board members and most importantly, our campers and their families, thank you!"
Be sure to scroll through the gallery of photos below (many thanks to volunteer Sue Shink for the beautiful images). Please see below for Doug's complete remarks.
Photo Gallery
---
Doug Armstrong's Remarks
"Welcome to beautiful North Star Reach! Today is a very special day for an extraordinary community of supporters who have made this camp possible. This project started with an idea that was often labeled "crazy"  or "a dream:" to build an amazing place where children and families who have been touched by serious health challenges can be inspired.
Fortunately, the idea resonated with all of you and many others,
None of this would have been possible without the collective energy and investment from each of you and so many others who were unable to join us today. It is fantastic to see so many of you here at camp — some for the first time — to see the physical manifestations of your support.  The campers, their families, the volunteers and the staff are deeply grateful for your generous commitments to the camp experience.
There are so many people to thank for their extraordinary contributions, but I have only been allotted a few minutes before they plan to unplug the microphone. I would like to recognize the early foundational supporters listed in your program.
Our Honorary Co-Chairs, Dr. Robert Kelch and Sheri Mark, exhibited courage and leadership in the earliest days of this project.
Dr. Kelch helped secure the property, funded the startup operations and organized University of Michigan and UM Health System support.
Sheri Mark stepped up as the inaugural board chair and helped to build the founding board of directions, shape the capital campaign and secure early fundraising. I am grateful for her leadership.
Our Founding and Visionary Donors helped provide the bedrock of the capital campaign.
Gwen Haggerty-Bearden and Steven Bearden and the Ted & Jane VonVoigtlander Foundation provided a large initial pledge that gave camp instant credibility and helped reassure others that this project was going to move forward.
The Dresner Foundation helped push the campaign over the final threshold that enabled us to break ground and begin construction.
The Jones Foundation's Wayne and Shelly Jones, along with Tammi Carr, asked tough questions, provided early financial support, and made introductions and forged relationships that were key to the campaign success.
Rick Bossard, Joe Kryza and the entire Mott Golf Classic provided the initial funding for architectural renderings that transformed our dreams of camp into plans for camp. They have continued to support camp financially and with an amazing network of in-kind donations that built our IT backbone and provided computer equipment and new technology for our camp and offices.
Jake and Jackie Long made a significant financial commitment, created and hosted our four annual Under the North Star events and have been long-term camp champions.
SeriousFun Children's Network has shared best practices from camps around the globe that informed our facility design and policy development and provided a large challenge grant that was helpful in completing the Capital Campaign.
We are also grateful to First Choice Builders, who, led by Steven Berger and Louis Beaudet, have been so much more than a construction company.
All of you that are represented on our donor wall, all the volunteers who have given of time in support of our mission, our hospital partners, board members and staff are being honored and celebrated tonight for the collective and significant impact that camp imparts on everyone who spends time here.  The best spokespeople are those who have experienced the program in action. I am pleased to introduce camper Braedon Bishop and Dr. Jacob Bilhartz whose relationship began in the hospital and deepened at camp.
Thank you for helping to connect us all with the power and importance of camp. The benefits transcend beyond the campers themselves and deep transformations are reported by volunteers, staff, and family as well.
You have shared your passion and commitment to camp by helping to build the physical infrastructure we are about to tour. You have ignited a campfire that burns brightly in all our campers and volunteers, and we hope that your association with North Star Reach has ignited your own personal campfire.
Hundreds of special memories, first-time experiences, and achievements and life-long friendships have already been formed inside and around these buildings.  There will be thousands more to follow in the generations to come. Each person who comes to camp will walk by this donor wall and see who was responsible for building this amazing facility.  I am personally grateful for your commitment to and belief in the dream of creating this camp and on behalf of the staff and volunteers, board members and most importantly, our campers and their families, thank you!"