Stories from around the campfire.
Discover fresh insights from our staff members, friends, and partners.

Or sign up for our newsletter to get the latest camp news straight to your inbox.
Join Our Email List
---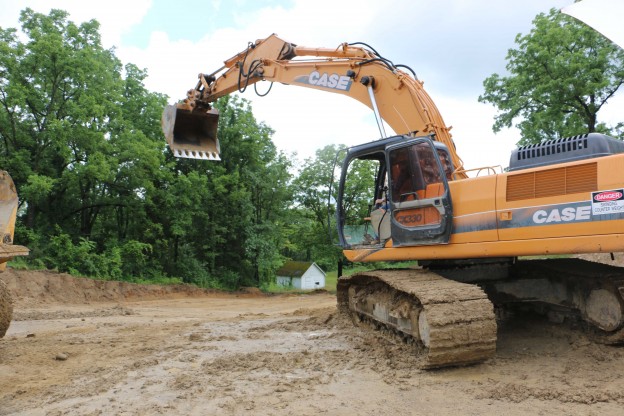 "Camp is magical" was the resounding message that guests took with them from the North Star Reach ceremonial groundbreaking. On July 30, 2014, founders, sponsors, volunteers, campers and friends all gathered to celebrate the start of construction and to commemorate all of the success the camp has seen in its fundraising campaign. The event was hosted at the Polo Fields Golf and Country Club in Ann Arbor on a beautiful summer day with plenty of sunshine. Decorated in a creative camp way, guests were reminded of the beauty and simplicity that camp offers.
As the event started, warm welcomes were given by Sean Byrne, the Board of Directors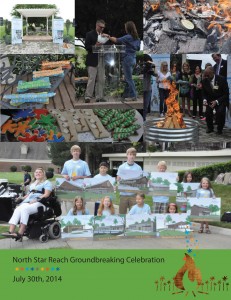 Chairperson and Doug Armstrong, CEO of North Star Reach. Doug shared the story of camp and reminded the audience that they were all there because of a dream – a dream to enable children with serious health challenges to experience all of the joys of a camp. "Everyone here has had a role in making this dream come true – together we have gotten to this point," said Doug. The speeches of the day were filled with thanks to each and every person who has given a helping hand – from board members to volunteers to family members, all who have assisted North Star Reach in raising $21 million so far.
One of the most memorable speeches came from Jenna, a camper who has been able to attend Victory Junction, through the Camp on the Move program, four years in a row. "Those four weeks at camp changed my life. – Before camp I was always embarrassed of my scar. It was at my first camp that I realized I'm not the only one with a scar," recalled Jenna. She also shared, "I made life-long friends at camp. They have created a support system that I can lean on." Since Jenna will be too old to attend North Star Reach as a camper when it opens, she hopes to serve as a counselor. "North Star Reach will provide the opportunity for kids in Michigan to make friends who are similar to them. I'm excited for them to get to experience the magic of camp."
The big moment of the day was when veteran and future campers revealed the renderings for the buildings at camp. This was the first time the public has been able to see what the buildings will look like when camp opens in fall 2015. The buildings have been designed to honor traditional camping and the natural beauty of the camp's pristine surroundings. Most importantly, North Star Reach is a barrier free camp and is being constructed to empower the children to just have fun without having to worry about restrictions.
The event was concluded by a unique celebratory ceremony. Instead of the traditional "shovel in dirt" groundbreaking ceremony, the event was finished by lighting a campfire and throwing "wish chips" for the campers into the fire.
All in all, nearly 250 supporters attended the event and over 1,000 more have viewed the broadcast online. The day left people feeling inspired and with high anticipation for the opening of camp. Construction has officially started and we are well on our way to making those camp wishes come true… After all, Camp IS Magical.
-Amanda Washburn
Owner, Rough Draft Solutions and North Star Reach Marketing Volunteer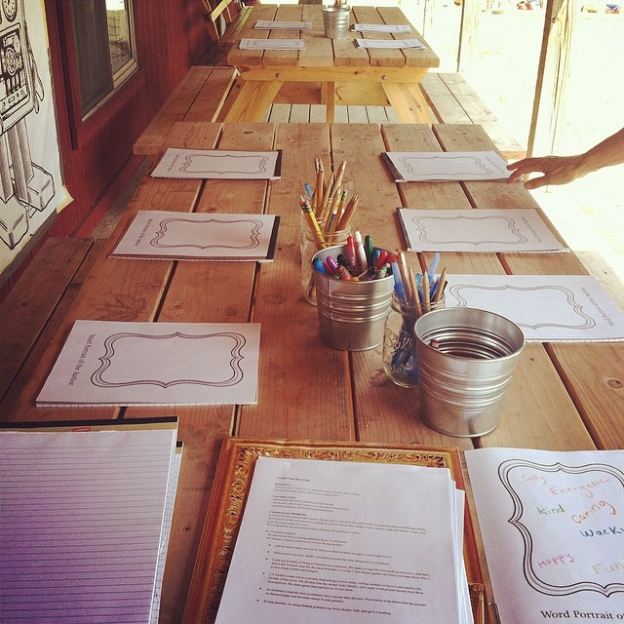 Creating Magic through Stories
by Megan Gilson
In June, I had the opportunity to volunteer as a program staff member at Camp Michitanki, a camp for young people who have had solid organ transplants. I came to Camp Michitanki as a volunteer for the Story Studio, a camp activity created in partnership between North Star Reach and 826michigan, a non-profit creative writing and tutoring center serving students in Ypsilanti, Ann Arbor, and Detroit. Story Studio was a special part of camp not only because it allowed campers to have a quiet and calm activity in a day filled with action, but it also invited campers to be creative and empowered campers to think positively about themselves and the stories that they can share.
Camp Operations Director, Patrick, noted that a primary goal of camp is to teach campers important life skills that they can use long after camp has ended. One Story Studio workshop, called Story of My Life, encouraged campers to think positively about themselves by listing three to ten words to describe who they are, and then sharing stories about moments in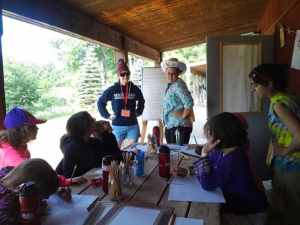 their lives when they demonstrated these qualities. Story Studio writing workshop topics ranged widely, from Robot Camp to Create an Advertisement. These workshops allowed campers to see writing beyond something that they may associate with school, and as a creative process that they can access from a variety of approaches. Many workshops built off of the natural storytelling that kids do when they play: we constructed talking chicken nugget puppets, designed robots with transplants and robots who promoted peace, created advertisements for Angry Birds snacks, and made our counselors wear silly costumes as we wrote stories about them.
Although at times we had to compete with the highly popular giant water slide in front of our workshop, we found that campers had many wonderful, hilarious, and inspiring stories to share. One of my favorite moments from the week was with one of the younger girls' cabins. When the group settled into the wooden picnic tables, ready to write, our workshop leader Elaine explained that we were going to learn how to draw robots. We were met with overwhelmingly skeptical looks, but Elaine convinced the group that she would make it fun, that the girls could be creative and make their robots interesting. As the girls began to draw different patterns and designs on their robots, they realized that these designs could be turned into special powers. Suddenly, swirls on a robot's chest had the power to hypnotize, and hearts on a robot's body could be donated to kids who needed a heart transplant. Through the process of decorating their robots, the girls realized that their robots could have exciting careers and backstories: the heart-filled robot became a doctor, and other robots were nurses, singers, volunteers, and undercover police officers – all heroes that these girls saw in real life. In that short hour, the robots became much more than decorations, and the campers wrote a collaborative story that involved all of their robots working together as a team.
Story Studio allows campers to see value in the stories that they can create and also share about themselves. Each year, 826michigan volunteers collect camper work publish it in a book, allowing campers to see their stories in print as published authors, remembering their stories from camp for years to come. We can't wait to share this year's book with the campers!