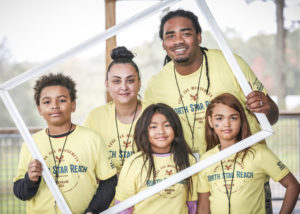 Our Family Camp programs are entirely free of charge and open to families with a child who has a diagnosis within the areas associated with one of our family camp sessions (see our 2019 schedule below). In addition, the child who has a serious health challenge must be 17 years old or younger (yes, infants are welcome!). We ask that families only attend one Family Camp per year.
During our Family Camps, we offer many activities similar to our summer camp programs, such as boating, arts and crafts, archery, evening campfires, morning hikes, and more. We purposefully plan these activities so that families can spend time together.
North Star Reach Family Camps begin Friday evening (welcome and check-in starts at 6 p.m.) and will run until 12 p.m. Sunday afternoon. Since there are a limited number of spots available, families must commit to being at camp Friday to Sunday. Unfortunately, we are unable to accommodate Saturday arrivals.
Applications for our 2020 Spring Family Camp programs will open January 1, 2020.  
2020 Family Camp Schedule
Coming Soon!
2019 Family Camp Schedule
Spring Family Camp
April 26 – 28: Cardiology/General Session Family Camp
May 10 – 12: Palliative Care/General Session Family Camp
May 17 – 19: Neuro-Oncology/General Session Family Camp
Fall Family Camp
September 27 – 29: Sickle Cell/Hematology/Pain Management/General Family Camp
October 11 – 13: Transplant/General Session Family Camp
October 25 – 27: Epilepsy/General Session Family Camp
November 1 – 3: Dance Marathon at the University of Michigan Family Camp
General Session Family Weekend Camps are open to families with a child who has a serious medical diagnosis.
Dance Marathon Family Camp is for families who are a Dance Marathon family OR families with a camper diagnosed with a physical or developmental challenge.
 Things to Know Before You Apply
If you have questions about our Family Camp sessions, you can email campers@northstarreach.org for assistance.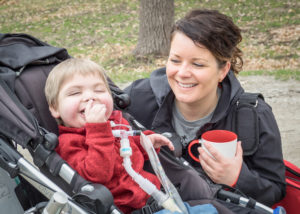 Housing
Typically, two families will share a cabin with two bathrooms (2 toilets, 2 sinks and 2 fully accessible showers in each). Our cabins are purposefully built to house 16 people, so plenty of room for two or more families to share for a weekend. Each cabin has heating, air conditioning, electrical outlets and bunk-style beds.
Activity Level
The distance from the cabins to our waterfront is approximately a half mile. Participants should be aware on an average Saturday at Family Camp families may walk up to three miles going from cabin to meals to activities.
Immunizations
For our family camp sessions, campers remain under the care of their parents or other legal guardian. For the weekend family sessions, we require all participants to be immunized at a minimum to chicken pox (varicella), measles/mumps/rubella (MMR), and tetanus and pertussis (Tdap). Exceptions will be considered when there is a physician documented medical reason not to immunize. When you log into our online application system (UltraCamp website), the form will have all the details of what immunization dates are needed.
Processing Your Application
After submitting your family's application, your forms will be reviewed for completion. You will be contacted at a later date if information is needed to complete your application. Once all members' applications are complete they will be reviewed by our Medical Team and you will be notified of your enrollment status. Enrollment is based on completion date: first completed, first reserved.
Waitlist
Unfortunately, North Star Reach may not be able to accommodate all who apply to camp. While we would love to be able to welcome everyone, we do have a limit to the available accommodations for families so first completed, first reserved. If a session is already full and you apply, you will be notified you have been placed on a waiting list. If a reservation becomes available you will be notified.
Keep in mind that an application must be complete before it is reviewed by our medical team.