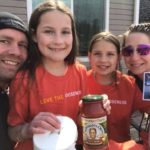 Families caring for a child with chronic illness face social isolation and uncertainty as part of their everyday lives, and that is even more true during this pandemic. 
With you, our friends and donors working together, we can continue the important work of caring for these families, offering them innovative programs that help to ease the sense of isolation and stress they face now more than ever.  Here are just a few ways your support is making a difference during this time of coronavirus crisis:
North Star Reach's camp-at-home family weekend sessions are helping families (like The English family, pictured above) to connect in meaningful ways through virtual campfire gatherings, shared activities and other virtual programs.
For families who are unable to connect online, North Star Reach team members are making wellness calls to check in and see how we can support their needs.
The upcoming summer camp season will offer hundreds of kids with serious illnesses from across Michigan and the Chicago area a meaningful online community where they can connect with others, gain new skills, and enjoy traditional camp activities, like campfires, singalongs, and special community-building events.