Campers & Families: Welcome, the Fun Starts Here.
Eat. Sleep. Camp. That's what we do.
Our camp programs provide life-changing experiences for children with serious health challenges and their families, free of charge. The heart of our program is summer sleepaway camp. Offered June through August, we welcome children ages 7–17 to our beautiful fully accessible camp in Pinckney, Michigan.
With traditional outdoor camp activities like archery, boating, campfires, fishing, nature and swimming, our campers bond with others who have shared the experience of serious illness and learn they are capable of much more than they ever thought possible.
We also offer weekend Family Camp programming in the spring and the fall for families with children ages 0–17. Aside from the fun, our Family Camp programs are designed to build relationships with and receive support from other families who understand what it means to raise children with serious health challenges. In between all the fun, there's also the eating and sleeping part. As we like to say: Eat. Sleep. Camp. All in a medically-sound environment. This is what we do. Camp hasn't changed, you have just never seen it like this.

We are extremely disappointed to share the news that we have made the incredibly difficult decision to suspend North Star Reach's 2020 spring and summer onsite camp programs. For more information, please read our latest blog post with our official announcement.
2020 Camp Schedule
While camp sessions will not be held in person, our team is working hard to create alternate programming for the coming months to provide positive experiences for our campers and to help us stay connected through this.
Spring Family Camp
April 24-26: General Session/Cardiology Family Camp
May 1-3: General Session/Neuro-Oncology & Palliative Care Family Camp
Summer Camp
June 14 – 19: Transplant (Michitanki) Camp
June 24 – 27: Solstice Camp (for campers aged 16 & 17 who either have a diagnosis associated with one of our summer camp sessions or are a brother or sister of a North Star Reach summer camper)+
July 2 – 7: Cardiology Camp
July 12 – 16: Epilepsy (Camp Discovery)/ Neuro-Oncology Camp
July 21 – 26: Sickle Cell/Hematology/Pain Management Camp
August 1 – 6: Sibling Camp (for brothers and sisters of a North Star Reach summer camper)
+ New Solstice programming for summer 2020: Sibling campers who have aged out of our regular camp programming are now invited to apply for Solstice Camp. Solstice is our four-day program for campers aged 16 and 17, with a focus on individual growth, leadership and interpersonal connectedness.
Fall Family Camp
The 2020 fall family camp schedule will be released at a later date.
Note: While all "General Session" Family Camp programs are open to families with a child who has any serious medical diagnosis, we will serve similar medical populations as we have in the past for families looking to connect with others on a similar medical journey, including Cardiology; Neuro-Oncology & Palliative Care; Sickle Cell/Hematology/Pain Management; Transplant; Epilepsy; Dance Marathon at the University of Michigan or families with a camper diagnosed with a physical or developmental challenge.
The Children We Serve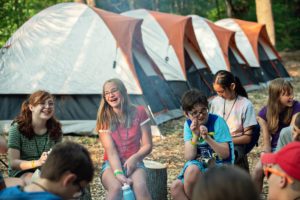 Our state-of-the-art health center, known as The Observatory, is staffed by nurses, physicians and other medical professionals, including volunteers practicing in the local area and others recruited from our 12 medical partners. The medical support we provide allows children with complex healthcare needs to come to camp, often for the first time. Since we opened in 2016, we have served more than 1,000 children with serious health challenges and their family members.
A great place to learn more about all our camp programs: visit our Experience Camp page, where you'll find terrific videos and audio stories from past seasons. Or, stop by our 100 Summer Moments page to read and watch stories about summer seasons.
Program Goals
Our program goals work toward fostering adventure and exploration, developing a positive self-identity and building friendships. We call it an Authentic Camp Experience (ACE). Creating transforming camp experiences for children with serious illness and their families requires talented and generous volunteers. How we make this all happen is the secret. We like to call it "mooseness". To experience the magic of mooseness, we invite you to come join us at North Star Reach.
Frequently Asked Questions
Before you apply, we encourage you to learn about our summer camp and family programs by visiting our FAQ page.

 Apply to Camp
Learn more about applying to Family Camp
Learn more about applying to Summer Camp
Newsletter Signup
If you'd like to receive our monthly e-newsletter, you can sign up here.
---