Campers & Families: We Are Here for You
Even as Covid-19 cases continue to fall, we know that this is still a time of isolation for many of our camper families. Our goals of providing lifelines of connection, community and support for you are as vital as ever. Below you will find resources ranging from ways to stay connected with us during the summer season—and beyond. We hope you find these resources useful.
2021 Fall Campily Retreat Weekends
We are excited to share our plans to safely resume on-site family weekend programming this Fall and welcome a limited number of families back to camp. With the health and safety of everyone (camper families, volunteers and staff) our top priority, our new "Campily Retreat" will adapt traditional Family Camp Weekend programming to ensure COVID-19 precautions while giving families a chance to enjoy a camp getaway experience.
Click here to see Campily Retreat schedule and apply today.
2021 Summer Camp-at-Home Season
Our summer sessions connect campers with similar medical conditions and their siblings with community-building experiences through secure online events and gatherings. See 2021 summer camp-at-home schedule.
2021 Summer Parent/Caregiver Support Group
Led by a trained facilitator, our free summer support group meets every other week and is open to all parents and caregivers of children with serious illnesses, not just North Star Reach camper families. The drop-in "Open Discussion" group meets Tuesday evenings from 9-10 PM (EST).  In the fall, we will offer more support groups on different days of the week and address different topics. Click here to register today.
Save the Dates: Family Care Conference, October 6-7: A virtual two-day online conference bringing together top medical and mental health experts with parents and caregivers. Check out the library of presentation and talks from our 2020 Family Care Conference here.
• Halloween Glow, Late October: An illuminated drive-through tour around camp, featuring festive Halloween light displays. Camper families are invited at no cost.
2020 Season Highlights
In 2020, thanks to support of generous donors, we hosted hundreds of campers and their family members during spring, summer and fall virtual camp sessions.
Be sure to watch our end-of-season "Thanks & Giving" Event to hear from our campers and camper families about the ways North Star Reach made a difference in their lives: Watch program
Summer Camp-at-Home Photo Galleries: You can see highlights from our 2020 alternative summer season on our blog.

 
Family Care Conference: Serious Support  – We hosted our first-ever virtual Family Care Conference in October. The two-day event brought together leading medical, mental health and wellness professionals with families caring for chronically ill children. Be sure to check out the archive of terrific presentations by visiting our Recorded Talks page.
Stay Connected
Be sure to sign up for our Monthly E-Newsletter "Trail Mix" (click here to subscribe) to stay informed about our new virtual summer programs, digital fundraising events, and more. If you haven't connected with our social channels, we encourage you to follow us on Facebook, Instagram and YouTube. Our weekly storytelling series connect all corners of our camp family and are designed to inspire connectedness, resilience and hope.
Changing the Lives of Children
Our camp programs provide life-changing experiences for children with serious health challenges and their families, free of charge. The heart of our program is summer sleepaway camp. Offered June through August, we welcome children ages 7–17 to our beautiful fully accessible camp in Pinckney, Michigan.
With traditional outdoor camp activities like archery, boating, campfires, fishing, nature and swimming, our campers bond with others who have shared the experience of serious illness and learn they are capable of much more than they ever thought possible.
We also offer weekend Family Camp programming in the spring and the fall for families with children ages 0–17. Aside from the fun, our Family Camp programs are designed to build relationships with and receive support from other families who understand what it means to raise children with serious health challenges. In between all the fun, there's also the eating and sleeping part. As we like to say: Eat. Sleep. Camp. All in a medically-sound environment, as detailed below.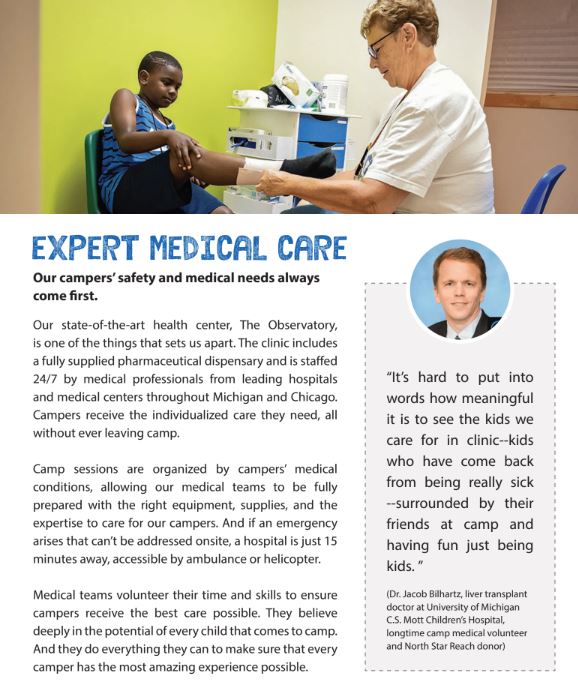 ---