Celebrating Our First Fall Family Camp Weekend Season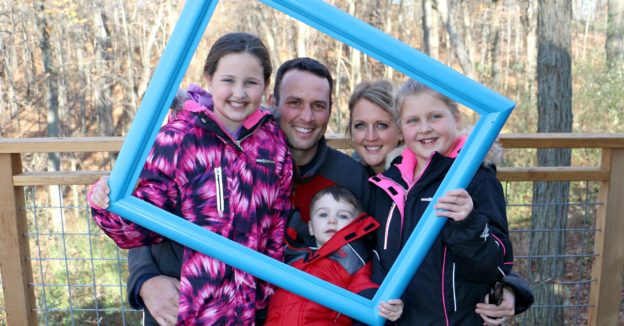 We just wrapped up an incredible first-ever Fall Family Camp season. During our four weekend sessions, held from late September through early November, we hosted 48 fantastic families, which included 180 campers of all ages. Many thanks to our all-star team of dedicated volunteers: We couldn't have done it without you!
We're also very grateful for the many heart-warming notes of thanks we've received from our camp families, including a letter from The Lentine Family (pictured above), who joined us Nov. 11-13 for our Cardiology Family Camp. "Attending family camp was an experience of a lifetime," they wrote to us recently. "Our main goal was to convince our daughter to come to summer camp–mission accomplished! As a family, we gained so much more. We connected with each other and with others in ways that will stick us us for forever! Thank you for everything."
We hope you enjoy the slideshows below. Many thanks to Jenny Smith for the beautiful photography and putting together the slideshows.
Fall Family Camp Weekend Slideshows
(For best slideshow viewing experience, we recommend you cue up your favorite songs. Our favorite playlist features songs by Toad the Wet Sprocket, Justin Timberlake, Phillip Phillips, and American Authors. Enjoy!)
Sept. 30 – Oct. 2: "Camp on the Move" alumni (coming soon)
Oct.14 – Oct. 16: Dance Marathon at the University of Michigan families
Oct. 28 – Oct. 30: Families with a child who has received a solid organ transplant
Nov. 11 – Nov. 13: Families with a child who has a heart-related condition