Swim to the Moon: Support Us on August 21, 2016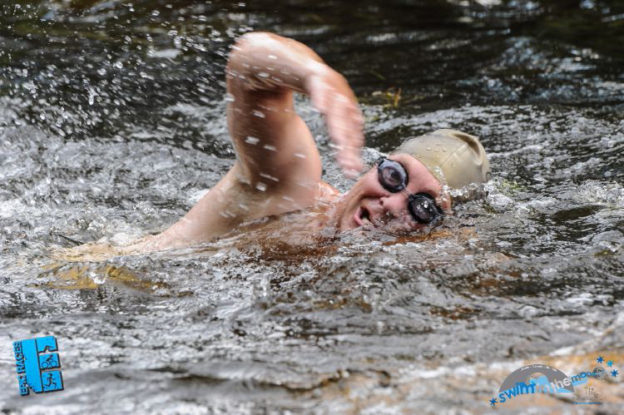 This Sunday, along the shores of Lake Patterson, where just weeks ago campers were catching—and kissing—smallmouth bass, northern pike, and all kinds of cool-water fish, North Star Reach CEO Doug Armstrong and other "Swim to the Moon" competitors will dash into the waters and begin a long-distance swim.
The annual open-water competition is presented by Epic Races. The event, which features four races–half mile, 1.2 mile, 5K, and 10K–raises funds for North Star Reach and supports our efforts to send children with medical challenges from across Michigan and the Great Lakes Region to our summer camp programs, free of charge. This year, during our inaugural camp season, we completed three weeklong camp sessions, serving more than 200 children. Events like Swim to the Moon, and your generous donations, will help to make life-changing, cost-free camp experiences possible for hundreds of children and their families for many more summers to come.
More than 400 swimmers will compete in Swim to the Moon this year. For the 5K event, Doug and other swimmers will leave the beach at North Star Reach and head south and east (passing five lakes along the way) until they cross the finish line at Halfmoon Lake Beach in the Pinkney Recreation Area. The other races start and finish at Halfmoon Lake, with the 10K swimmers going all the way to the North Star Reach beach, then turning around and heading back to the race start. Following the race, former University of Michigan swimmer and Olympian Chris Thompson (bronze medalist in the 1,500-meter freestyle at the 2000 Summer Olympics) will lead a swim clinic at 2 p.m. for all race participants.
For more information about Swim to the Moon, including start times and directions, visit the event page. A team of North Star Reach supporters will also be on hand (on the shores and in kayaks along the route) to assist with the event and cheer on Doug and the other swimmers.
There's still time to volunteer! If you'd like to help, please visit the signup page today. And we'd love to have you show your support for Doug—and for North Star Reach—by making a pledge on his donation page.
Thank you! We hope to see you lakeside this Sunday.