A Magical First Camp Session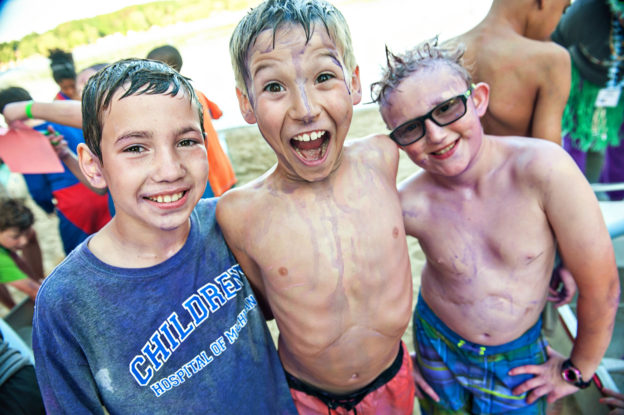 We enjoyed a magical first North Star Reach camp session from July 3-July 9. More than 70 transplant campers joined us for Michitanki Week, named in honor of Camp Michitanki, which was created by the University of Michigan Transplant Center to provide summer camp experiences for children who have had a solid organ transplant.
Nearly 20 years ago, along with his nursing colleague Vicki Shieck, North Star Reach CEO Doug Armstrong, a former nurse and clinical research director for the UM Transplant Center, helped start the program that became Camp Michitanki. In 1998, Armstrong and Shieck began taking transplant kids to camp each summer. These camps were often far away from Ann Arbor, which meant packing up hospital equipment, medical supplies, and camp gear every year. The sites were also far away from fully equipped medical centers, posing challenges for children who required advanced medical care.
With the opening of North Star Reach, Michitanki campers and volunteers have found a new home, one that features a state-of-the-art health center, staffed around-the-clock by nurses and doctors. Aside from when the campers and their families checked medications into the health center on opening day, most never visited The Observatory again.
The week was filled with new adventures, from exploring wildlife and catching bluegills to learning archery and decorating canoes for the inaugural North Star Reach Dragon Boat Races. Campers and counselors alike enjoyed the new cabins—yes, it's true, they were air-conditioned and had attached bathrooms with showers. The individual cabin unit campfire gathering spaces were also hugely popular.
As always, one of the week's highlights was the closing campfire. This year many campers who have rarely spoken in the past during the all-camp performances stepped on the amphitheater stage to dance, sing, tell jokes, and share personal stories.
For all of us on staff and volunteering, it was deeply moving to see transformations in many young lives taking place right in front of our very eyes. Watch the slideshow below and see if you can pinpoint moments of transformation for yourself. If the photograph captures you or someone you know, we invite you to send us an email and share the details with us. We're collecting transformational summer camp stories to share later in the year. In the meantime, enjoy the magical moments captured in slideshow.  (Photo credits: Rick and Marilyn Indahl Photo and Leisa Thompson Photography.)