Under the North Star Special Guests Speak About Camp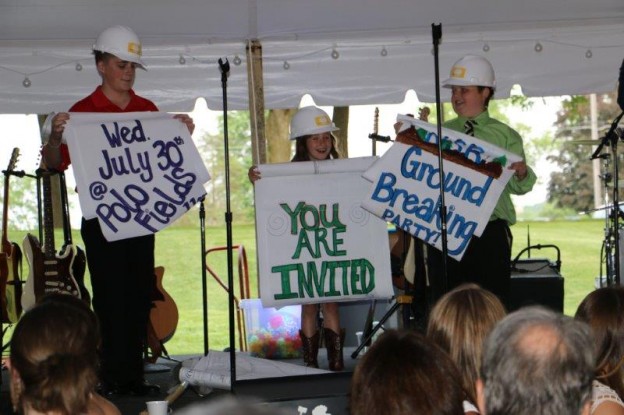 Under the North Star – a night of SeriousFun was North Star Reach's inaugural annual signature gala held on Saturday, June 7th, 2014. We wanted to share with you some thoughtful words from our hosts of the night Jake and Jackie Long, our presenting sponsor; Gwen Haggerty-Bearden, president of the Ted and Jane Von Voigtlander Foundation; and our special guest, Clea Newman, Paul Newman's daughter and director at SeriousFun Children's Network. For more details on the event, visit the event page here.
"North Star Reach touched our hearts from the instant that we heard about it. We wanted to dedicate ourselves and our resources to a meaningful cause and as we learned more and more about the camp and the children and their families that would benefit from it, we knew that this was something we wanted to dive into head first. Being involved in the building stages has been so exciting for us because we get to see this wonderful project literally being built from the ground up. We have complete faith in those who are leading the charge to make this dream into a reality and can't wait to be a part of North Star Reach as it impacts so many lives throughout the Midwest region and beyond." Our event hosts, Jake and Jackie Long.
Doug Armstrong, CEO of North Star Reach described Gwen as "Camp's Angel" and explained that without her, camp would not be where it is today. Gwen shared, "It means a lot to me to be a part of this wonderful cause. Years ago I was a chaperon for the Camp on the Move program and I experienced the excitement of the kids firsthand. That excitement was so contagious. I am so happy and so proud of all that has been done so far."
Clea Newman, the daughter of the late Paul Newman, founder of the SeriousFun Children's Network played a pivotal role in making the evening such a success she shared with the crowd, "First and foremost my father felt very lucky in his life and he wanted to give back. He wanted to do something for these kids who deserve it so much. North Star Reach is fitting into the legacy of my father so well. It is so exciting to be here in Michigan. I know my father is looking down and is so happy and so proud."
Clea also shared her own personal journey as a volunteer at a SeriousFun Camp, "Well it all started when my father asked me to help as a camp counselor when I was in my twenties. I arrived at that camp as one person and left that camp as a significantly different person. Camp changed me so greatly and made such a profound difference in my life. So, I am here because if there is anything I can do for these kids, I will."
For more details about the event, visit the event page here.