North Star Reach Camper Shines at SFCN NYC Gala

Last night, the SeriousFun Children's Network Gala in New York City welcomed hundreds of guests to the historic Ziegfeld Ballroom for a night of fundraising, storytelling, song and dance. Some of the biggest stars in music and entertainment—including Kevin Bacon, Liam Neeson, and Jackson Browne—were joined on the stage by SeriousFun campers.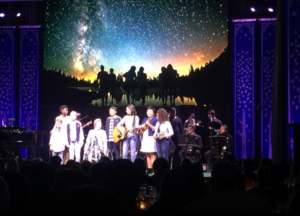 Jonathan, a North Star Reach camper (pictured with his camp friends above), gave a rousing rap performance and helped to celebrate the global network of camps and programs.
Below, we found an interview with Jonathan from our video archives, captured when he was a camper two years ago during Sickle Cell/Hematology Camp.
Way to go, Jonathan! Thank you for traveling to New York City and sharing proof of camp's life-changing power. Learn more about the Gala at SeriousFun Chlidren's Network's website.