Honoring Our Partners In Sickle Cell
This Black History Month, North Star Reach would like to recognize and amplify the leaders in the nonprofit space that are dedicated to supporting families impacted by sickle cell disease.
We recently caught up with both The Sickle Cell Disease Association of America Michigan Chapter, Inc. (SCDAAMI) and The Sickle Cell Disease Association of Illinois (SCDAI), our valued long-standing partners in providing care and support to families with sickle cell across the Great Lakes Region. This year is a big milestone for them both, as they are celebrating their 50th year since opening in 1971. Both organizations were founded by leading pioneers who helped to advocate and lead research for sickle cell disease, a genetic blood disorder which disproportionately affects Blacks, Hispanics and Native Americans.
SCDAAMI was founded by Dr. Charles F. Whitten, a pediatric hematologist whose work and dedication to supporting the health of sickle cell patients paved the way for advances in screening, education and more. SCDAAMI is now run by Dr. Whitten's daughter, Dr. Wanda Whitten-Shurney, who is continuing her father's legacy serving as the CEO/Medical Director. SCDAI was founded by Howard D. Anderson as a community-based (grassroots) organization under the name Midwest Association for Sickle Cell Anemia. In 1971, Anderson and Whitten joined 14 other sickle cell organizations and together created the National Association for Sickle Cell Disease — whose name was later changed to the Sickle Cell Disease Association of America, Inc. in 1994. The SCDAA has now grown to a 57 member community-based organization in over 300 communities nationwide and in Canada.
Both organizations work to improve and enhance the lives of families caring for a child with sickle cell through their many service and outreach programs, including, but not limited to: Newborn Screening, Social Work, Career Development, Testing, Support Groups, Summer Camp, and Public Education programs.  All of their programs, including camp, are geared towards helping individuals living with sickle cell disease to become self-sufficient, gain knowledge/awareness, become independent, and gain self-confidence, as well as decrease the barriers and hurdles individuals and their families face when trying to access quality care.
Of course, their important work would not be possible without the dedication of their staff, volunteers, donors and their patient and parent advocates.
When we chatted with Tracie Conic, M.A., B.S.W. (pictured left), the Director of Client Services/HIPAA Compliance Officer at SCDAAMI, she wanted to shine a light on their Patient Advocates at their satellite offices all around Michigan, including Grand Rapids/Muskegon, Saginaw/Flint, Benton Harbor/Kalamazoo, and Lansing/Jackson. Patient advocates are SCAADMI's officers with their feet on the ground, making a difference each day in the lives of those living with sickle cell disease, as well as providing awareness and education to the general public. Tracie shared how important it was to highlight "the work these employees do that often goes unnoticed."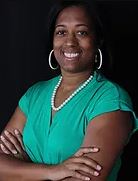 When we chatted with TaLana Hughes, MPH (pictured right), the Executive Director at SCDAI, she wanted to shine a spotlight on her staff, board of directors, previous Executive Director Valerie C. Beckly (RIP), their families/individuals with sickle sell disease (camp counselors), their medical volunteers and all of their supporters and sponsors that have been working to help provide a voice and ensure that sickle cell remains at the forefront of medicine. As she said, "We cannot fight this battle alone."
We are so proud to partner with both the Sickle Cell Disease Association of Illinois and the Michigan Chapter. These organizations play a critical role in providing care, resources, and support to families with sickle cell disease year-round. Now, and every day, we give thanks to these organizations who are fighting for families caring for children with sickle cell disease, as well as fighting for a cure. Thank you to everyone at SCDAAMI and SCDAI — including your dedicated staff, parent and patient advocates — for your commitment to, as Tracie said, "breaking the sickle cycle."
For more information about the good work these organizations are doing, please visit their websites below.
Sickle Cell Disease Association of America Michigan Chapter, Inc.