Power of Volunteering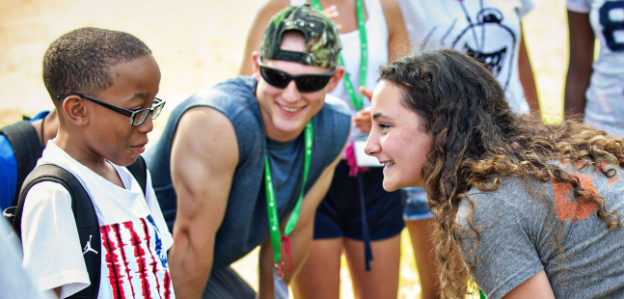 Program volunteers at North Star Reach get the unique opportunity to create unforgettable, life-changing experiences for children living with serious illnesses, such as sickle cell anemia, epilepsy, congenital heart disorders and organ transplants.  These experiences help campers—many of whom have never had the chance to go to camp—build confidence, stretch beyond boundaries, and create lasting connections. Time and again our volunteers report that, in fulfilling this mission for campers, they leave camp equally changed.
We really, truly couldn't do it without you
Since no camper ever pays a penny, our volunteers are truly what make camp possible. We will welcome more than 500 campers this summer, and we'll rely on hundreds of volunteers to make life-changing experiences happen. If you're 19 or 79, thrive as part of a team, love being outdoors and working with kids, we're your camp family!
Click here to start your application today!
Stretch yourself, gain valuable training
On top of helping deserving kids and joining in all the magic-making fun, college-aged volunteers gain high-impact skills that are attractive to employers, from creative problem-solving and leadership to teambuilding, public speaking and time management. No matter your age, being part of a big-hearted, inspiring community making a difference in the lives of kids is really the biggest gift of all.
Long-lasting impact for you and your community
Camp stays with you long after you leave. You'll see and appreciate a widened professional and personal community, an expanded social media feed, and (like many of our volunteers) you'll likely return for another summer. Regardless, volunteering at North Star Reach is a decision with long-lasting impact for you and your community. You won't regret a single, joyful, inspiring, life-changing moment!
Download "The Power of Volunteering" (PDF) for more about the benefits of volunteering at North Star Reach this summer. Please share widely with friends and family! We need your help to serve even more kids in summer 2019!