Listen to the voices, songs, and laughter that make North Star Reach a place of belonging for so many children and their families.
Fall & Spring Family Weekend Camp
To see past family camp slideshow, visit our archive on YouTube.
Celebrating Our First Summer Season: 2016 Summer Camp
Transplant Week/Camp Michitanki (July 3-9, 2016)
Cardiology Week (July 17-23, 2016)
Sickle Cell/Hematology Week (July 31-August 6, 2016)
More Amazing Video Stories : From a look at closing campfires to interviews with our experienced staff, stop by our YouTube Channel for dozens more video stories.
Audio Campfire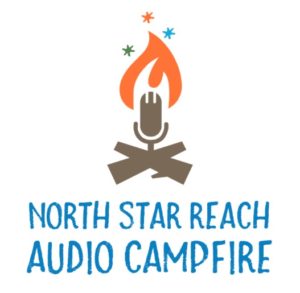 Episode 1: From Kissing Fish to Slurping Food (June 2017)
In our first audio episode, campers offer tips on how to catch and kiss fish, handle bugs, eat without any hands, and get to sleep. The voices, recorded during our 2016 summer season, belong to campers Nylah, McKenzie, Jackson and Nadir. (Jordon, also a 2016 camper, is featured in our photo showing off excellent no-hands dinner form.)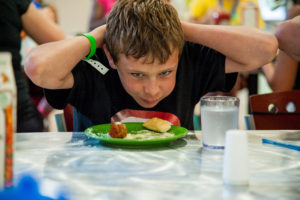 Episode 2: Strange Sightings (July 2017)
As we get ready to host more than 100 campers during our Sickle Cell/Hematology/Pain Management Week, including 55 kids from the Chicago area, we're delighted to share two audio stories from last year's campers, Nylah and Jerimiah. The theme: strange camp sightings. (One of our all-star Seasonal Activity Staff counselors, Nick, shows off champion fish-kissing form. Our kiss-and-release style of fishing tops many campers' lists as one of the strangest–and "coolest"–traditions at North Star Reach.)