North Star Reach program volunteers are positive, caring adult role models focused on putting our kids and families first. Our widely diverse staff of amazing volunteers bring a wealth of worldly experience with them (volunteers must be at least 19 years of age, with the exception of individuals volunteering for Solstice Camp–for teen-aged campers–who must be at least 21).
2022 Schedule: Our medical and program teams are working hard on plans to welcome campers, volunteers and staff back onsite for safe and fun camp experiences in 2022. We will be sharing those plans and the 2022 camp schedule soon. In the meantime, if you would like to inquire about volunteer opportunities, please email North Star Reach's Director of Volunteer Engagement Mike "Coach" Parker (mike@northstarreach.org).
About Camp and the Campers
What is the goal of North Star Reach?
The mission of North Star Reach is to offer life-changing camp experiences for children with serious health challenges and their families. To accomplish this, activities are intentionally designed so participants experience these outcomes:
To foster a sense of connectedness
To develop competency and mastery
To gain a feeling of autonomy
What are our campers like?
North Star Reach summer camp sessions are for children ages 7 to 15, with the exception of our Solstice session, which is open to campers with serious health challenges ages 16 and 17. Our family camp sessions also serve children too young to come to summer camp and their immediate families.
Some of our campers will have obvious signs of their health challenges including scars, general weakness, amputations, or challenges with balance, mobility, vision and/or hearing. Others may have less-obvious signs including developmental, cognitive and emotional challenges. We are committed to safely providing the appropriate medical care and support for all of our participants.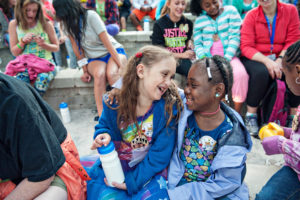 Together, our campers make up a diverse group with diverse needs. In spite of what challenges our campers may bring, we want to emphasize that our campers are just that . . . campers! They're kids looking for a chance to be "normal". We sometimes use the term "spectacularly average" because we want camp to be an amazingly remarkably wonderfully normal experience just like the experiences kids without medical challenges have at camp. This means making friends, playing games, learning and developing new skills and interests, practicing leadership, decision-making, and problem-solving skills all designed around having fun. In fact, we believe that camp is a prescription for fun. Camp leaders help provide a physically and emotionally safe environment where campers can feel comfortable taking healthy risks and accepting challenges on their way to growth.
Volunteer Information
What are we looking for in a program volunteer?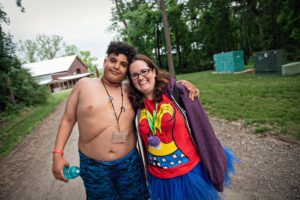 Any experienced volunteer will tell you that camp life is unquestionably, a truly rewarding experience. At the same time, it can be challenging. It will test an individual's patience, flexibility, and privacy as well as take away much of the freedom we are used to in our daily life. But, volunteers at North Star Reach agree, it's totally worth it!
We are looking for individuals who can live in, work in, and thrive in a rustic outdoor environment, promoting healthy personal interactions with campers and staff, while also being positive role models. Volunteer staff members must consistently show enthusiasm for the program and our mission, be eager to try new challenges and, of course, be able to deal with a little conflict now and then. We are a team of playful professionals who put our campers' needs before our own and always reach as high as we can. Or higher!
What are the different volunteer roles for a program volunteer?
There are three camp roles available for North Star Reach volunteers.
Cabin Leaders (for summer camp):
Provide daily and nightly support and care to a cabin of six to ten campers of a similar age, typically with one to three other adults
Are responsible for the general safety and well-being of campers with a focus on our intentional camp outcomes
Live in a cabin with their kids and travel to cabin activities with them, assisting in program implementation, all while fostering a family-like atmosphere for campers in the cabin group
Have been known to battle pirates and mermaids, defend forts, eat s'mores and answer knock-knock jokes all in the course of a single day
What is the time commitment for program volunteers?
Summer program volunteers:
New Staff Orientation – will begin the evening before the start of pre-camp training
Pre-Camp – staff development and training will begin one day prior to camper arrival
Camp Session – four to six days with the kids
What are the benefits of being a program volunteer (or WIGOOI)?
WIGOOI* stands for "what I get out of it" and that's OK. Because you will get lots! We discovered a long time ago that doing good for others actually does good for you too. In fact, we often hear from our volunteers after camp that it seems a bit unfair. Somehow, they feel as if they got more out of camp than the campers. It may seem that way, but we did a secret test to see if it was true. It's not.** Because we believe gratitude is the best attitude, the words "thank" and "you" are used often and generally in that order (unless it's Yoda who would of course say "you thank – we do").
The benefits of being a program volunteer at North Star Reach are many. Here are just a few we've heard:
Growth in leadership skills
Increased self-confidence
Heightened creativity
Being a part of an enthusiastic and optimistic community (and that feels good, ooohh that feels so good)
Developed group dynamics
Augmented flexibility (and not just the kind that comes from stretching)
Enriched silly song singing
Intensified appreciation for diversity
Improved communication skills and tools
Enhanced participation in life
And, most importantly, the ability to teach and impact children!
It was a good thing our computer had a thesaurus. Do you know how hard it is to come up with all those words that mean the same thing? At any rate, what we're trying to say is that camp makes you better! If you don't believe us, check out the staff reviews further down the page. We'll wait.
*Thanks to Michael Brandwein, an awesome camp trainer guy, who invented WIGOOI or at least was the first person to create the acronym and say it out loud.
**We could show you the results but then it wouldn't be a secret test, would it?
What is the 2020 camp schedule?
We are extremely disappointed to share the news that we have made the incredibly difficult decision to suspend North Star Reach's 2020 spring and summer onsite camp programs. For more information, please read our latest blog post with our official announcement.
While camp sessions will not be held in person, our team is working hard to create alternate programming for the coming months to provide positive experiences for our campers and to help us stay connected through this.
Spring Family Camp
April 24-26: General Session/Cardiology Family Camp
May 1-3: General Session/Neuro-Oncology & Palliative Care Family Camp
Summer Camp (inclusive of training) 
June 13 – 19: Transplant (Michitanki) Camp
June 23 – 27: Solstice Camp (for campers aged 16 & 17 who have a diagnosis associated with one of our summer camp sessions)
July 1 – 7: Cardiology Camp
July 11 – 16: Epilepsy (Camp Discovery) Camp
July 20 – 26: Sickle Cell/Hematology/Pain Management Camp
July 31 – August 6: Sibling Camp (for brothers and sisters of a North Star Reach summer camper)
Fall Family Camp
The 2020 fall family camp schedule will be released at a later date.
General Session Family Camps are open to families with a child who has a serious medical diagnosis. Dance Marathon Family Camp is for families who are a Dance Marathon family OR families with a camper diagnosed with a physical or developmental challenge.
* Family Camps will be staffed primarily with returning volunteers, due to the resources needed for training. There may be a limited number of positions available for new staff. If you are interested in volunteering during a Family Camp session, please email volunteer@northstarreach.org.
---
Volunteer Application & Training Process
How do I apply?
On the application, you will be asked some questions about yourself, your life experience and your desire to volunteer at camp. We will review applications on a rolling basis and invite qualified applicants to join us for a group interview. If you are invited to interview, you will be asked to consent to a background check. Three references must also be returned to us by your interview date, the reference forms are sent out when you complete your online application. If you are unable to participate in a group interview, we can generally make alternative arrangements.
What is a program volunteer interview like?
Our group interview (because camp happens in groups) is designed to help us get to know each other. It takes approximately three hours for a group of six to ten applicants. The interviewers are a group of experienced volunteers and the professional staff of North Star Reach. The actual interview process includes the following:
introductions (served up campfire skit style)
small group interview (more traditional "Q&A" time)
group problem-solving tasks
role-play situations
Please know we have created this process to enable us to select the best applicants to work with our campers and not to intimidate potential volunteers. We invite you to relax and, more importantly, be yourself.
Sounds crazy fun, rewarding and intense! Am I qualified?
Here's a handy checklist of minimum qualifications:
Do I have the desire and ability to work with children outdoors?
Am I able to relate to my peer group?
Can I be a positive member of a staff team?
Can I accept supervision and guidance?
Do I have good character, integrity and adaptability?
Do I show enthusiasm, a sense of humor, patience and self-control?
Am I at least 19 years of age and have a high school diploma or GED? Or, if you are interested in volunteering for our Teen Week summer session, are you at least 21 years of age?
Have I filled out the camp volunteer applications completely?
When will I be notified whether camp will offer me a volunteer position?
After your interview, we will notify you of your status within three weeks. If hired, we will confirm your session preference and relay the next steps in the process of beginning one of the best experiences of your life! We will also give you your tentative camp assignment at this time. You could be a Cabin Leader, Activity Leader or Support Director (this assignment is subject to change based on the needs of camp).
Let's talk about the training. What is that like?
North Star Reach is committed to providing volunteers with quality training programs to set them up for success at camp as well as in their lives outside of camp. You'll learn how to problem-solve, team-build, sing and maybe even how to foxtrot. Many different types of additional training opportunities are offered throughout the year, but here are the two events we mentioned earlier that are most important for program volunteers:
New Staff Orientation: a mandatory training for all new summer camp volunteers. It's designed as a fun way of introducing new staff to camp's policies, traditions and culture, as well as introducing you to each other (we want the kids to be friends and we want you to be friends too). We host it at two different times and locations to provide you the most flexibility in meeting this training requirement. It's offered either in at camp in early June as a big group orientation (preferable), OR before your camp session (at camp, the evening before pre-camp session begins).
Staff Development & Training: This mandatory training takes place the day before camper arrival at North Star Reach. During this time, all staff members, new and returning, participate together in important training and teambuilding. Because we believe that well done is better than well said, skills building, emergency procedures, medical orientation, program planning and camp traditions are presented and discussed in a fun camp setting. Volunteers will meet their co-staff partners and plan activities and fun for the arriving campers. Volunteer staff members are expected to arrive at North Star Reach ready to begin their Staff Development & Training by 8:00 a.m., the day before camper arrival. Yes, 8:00 a.m., ready to begin. Because we want you well rested, you are welcome to stay at camp the night before your session, if you choose to arrive early.
Often Asked Volunteer Questions
Would I be responsible for healthcare as a program volunteer?
Program volunteers are responsible for being aware of the general health and safety of their campers and reporting any changes to the doctors and nurses at camp (i.e. camper has a stomachache, does not have an appetite, seems lethargic, etc.). You're also responsible for keeping yourself healthy—that means getting sleep, drinking plenty of water and eatin' your veggies! During pre-camp training, all volunteers receive a medical orientation that addresses camp procedures (i.e. medication distributed by nurses, health and care information available to volunteers about campers, etc.) as well as any concerns volunteers may have regarding the health of their campers. Program volunteers are not required to have formal medical training beyond what we provide in our orientations.
Where is this place? What's it like? How's the food? Ahh!
North Star Reach is not only a program but a place you can see, touch and smell (for better or for worse once its filled with sweaty…or, glistening kids!). It is located near Pinckney, Michigan, on the Half Moon Chain of Lakes about 30 minutes Northeast of Ann Arbor. The site offers a 105-acre peninsula of wooded hills, open meadows and 100% accessibility to every building.  Accommodations are rustic cabins with bunk beds, bathrooms, showers and hot and cold water. Meals are served family-style and menus are planned with a youthful palate in mind. A salad bar and vegetarian option are offered at every meal.
What activities will be at camp?
All activities offered at camp are designed to help the participants grow in each of our outcome areas. Activities vary by session, but they may include archery, nature, arts & crafts, sports, swimming, drama, cooking, story studio, boating and fishing. There are special programs each evening for cabins and Constellations (three to four cabins grouped together by age) or the whole camp. Some of these evening activities may include campfires, carnivals or sleep-outs at Outpost Village and dances.
What are the rules for camp?
Every community needs parameters to ensure the safety and well-being of its members. Camp is no different. Camp rules will be shared and discussed in detail during training sessions. Due to the responsibility we all share in caring for the campers, staff members are asked not to possess or engage in the use of recreational or illegal drugs, alcohol, tobacco products, or sexual or romantic relations while at camp. Staff members are expected to be with and supervise campers at all times during their session unless they are on a scheduled break. Kids' safety and well-being always comes first at camp! Remember, safety doesn't happen by accident.
Will my cell phone work at camp?
If this makes your heart rate increase, you probably should find a volunteer opportunity closer to town: Cell phones have limited reception at the campsite and staff members are asked to keep them out of use and sight during camp. This means getting a watch, an alarm clock, and putting up a "Gone Campin'" message on your email. We are an 'unplugged' community where cellphones are not to be used, keeping focus on the campers and program. Of course you can use your technology on your free time or when campers are asleep for the evening. Camp does have an emergency contact number and urgent messages from home will be relayed to staff as quickly as possible.
What's the best part/why should I do it?
Real words from real volunteers (not just us, because we love camp and are totally biased):

  (5 out of 5 stars)
My Bags are Already Packed!
"Volunteering at camp is one of the best, yet most exhausting, weeks that I look forward to all year long. I find myself counting down the weeks, then days, before we get to head back to that familiar place that feels like home, where we are greeted like family and where everyone picks up right from where they left off (even those who are new to camp!). Camp is a feeling, more than a place, which is incredibly comfortable yet challenging. There is a certain magic here that doesn't just happen anywhere else in the world."  –  Calendarwatcher2016

  (5 out of 5 stars)
No Rookie No More
"As a first time volunteer at camp I was worried that I wouldn't fit in with the other counselors that had been coming for many years. By the end of the 1st day I felt like we all shared a common bond where everyone was supported and accepted, regardless of age or experience or anything else. And this was even before the campers had arrived!" – camprookie

  (5 out of 5 stars)
Blue Eyes was Right
"I thought I had an idea of what camp was going to be like, but my expectations left quicker than a shooting star, and that's what these campers were. I watched campers who were non-verbal have conversations, campers with a disability that hindered movement go down a zip line, and campers in an environment where they could, as Paul Newman said, "kick back and raise a little hell.". It was truly amazing and I am forever changed because of it." – moresmores

  (5 out of 5 stars)
A Changed Person
"The reason I volunteered at camp was to make a difference n the life of a child impacted by a serious health challenge. I found out on day three that the campers where making a huge impact in my own life! I left camp a changed person. I can't wait to come back next year." – firestarter1
For more information please contact:
volunteer@northstarreach.org
(734) 680-8744