Stories from around the campfire.
Discover fresh insights from our staff members, friends, and partners.

Or sign up for our newsletter to get the latest camp news straight to your inbox.
Join Our Email List
---

On this GivingTuesday, we're making a special request for you to give the gift of your time and talent to North Star Reach today.
Volunteer opportunities include:
Behind-the-scenes program and event support
Committees (for events, fundraising, and marketing)
Service workdays
2022 Update: Our Volunteer Pledge Campaign was so successful, we have extended it through early 2022 (however, the Matching Challenge Fund ended on December 31, 2021). We are deeply grateful for your support.
Questions about what it means to pledge your time and talents? Below, you just may find your answer.
Volunteer Pledge: FAQS
Q: So, you're asking me to pledge my time rather than give a donation on GivingTuesday? Is that correct?
A: On GivingTuesday, we're making a special request for you to give the gift of time and talent. You can give anytime, of course, but on November 30, for one day only, every pledge of time on our website will also raise $25 for North Star Reach, thanks to generous donors who established a Challenge Fund. If volunteering isn't something you can fit into your schedule, or you're not sure right now, we'd be grateful for a donation or for you to simply help raise awareness by sharing the impact of North Star Reach. Thank you in advance for all you do to support camp.
Q: Can anyone make a volunteer pledge?
A: Yes, anyone can pledge to volunteer. If you're under the age of 18, we will need parent/guardian consent prior to any actual volunteer assignment.
Q: How do I make a pledge?
A: Click here and submit the Volunteer Pledge form to let us know how many hours you'd like to volunteer.
Q: How long will I have to fulfill the pledge?
A: For all of the 2022 calendar year.
Q: What type of volunteer opportunities will be available?
A: There are a variety of volunteer opportunities available, including behind-the-scenes program and event support, committees (for events, fundraising, marketing, etc.), service workdays, and, of course, volunteering for summer camp.
Q: What if I make a pledge and I can no longer complete it?
A: We understand schedules and life can be unpredictable, if you are not able to fulfill your pledge, we work with you to adjust the commitment of your pledge.
Q: Are you having camp in-person next year? How do I submit my application to be a program or medical volunteer?
A: Our medical and programs teams are currently working on safely bringing campers and families back to in-person camp in 2022. We anticipate having more updates about the schedule and information about volunteer applications in January. If you are not already on our email list, you can sign-up here for the latest camp updates.
Q: When will I know what projects I will be working on?
A: Your volunteer pledge will be processed by our team in early December and we will be in touch soon to start the conversation with you about how best to match your specific interests with volunteer opportunities at North Star Reach.
If you have additional questions, please email North Star Reach Director of Volunteer Engagement Mike "Coach" Parker (mike@northstarreach.org). Thank you in advance for giving your time to support camp. We can't wait to see what we can all accomplish together on GivingTuesday!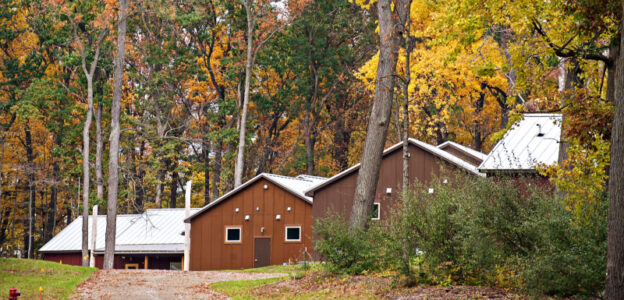 Practicing Resilience
Dear North Star Reach Camp Family,  
One of the only ways to compare living through the pandemic to that of attending camp is through the word resilience. Resilience is defined as the capacity to recover quickly from difficulties. Camp is one of the safest places where campers, volunteers, and staff can learn through experience. Many people don't think about camp being a place where there are difficulties, but consider the struggle of bringing a group of strangers together and living in an close-knit cooperative environment together 24/7. Resilience is one of those things that may not be immediately identifiable but over time, the experience of facing difficulty helps build confidence, acceptance and flexibility that all contribute to increased resilience. It is also a quality we see in many of our families who often have faced more difficulty in a short period of time than others experience in a lifetime.
Unfortunately, we all get to work on growing our resilience with the latest trend in Covid tracking here in Michigan. Locally, we have crossed the High Risk threshold in all of the counties surrounding camp and most of those across the state. Following the guidance of our Medical Director with consultation from the Medical Advisory Board and input from North Star Reach's leadership, the difficult decision to cancel in-person programming for the fall has been made out of an abundance of caution and with the safety of our campers, families, volunteers and staff in mind.
We know some families will be deeply disappointed and others may be relieved. We all wish fervently that we could offer an in-person camp experience right now, especially after the past 18 months and all the work that has gone into getting this far. Families have applied, applications have been reviewed, preparations have been made, supplies have been purchased and so much more. But resilience will get us through. Hope will get us through. Mooseness will get us through.
Plans are already in motion to offer some entertaining and engaging virtual family programs this fall that will allow our community to continue to come together and stay connected to the joy camp brings all of us. While it won't be together in person, we will have the opportunity to be together. North Star Reach is committed to keeping the mooseness alive in our campily and looking forward with great anticipation for the time we can return to the camp home we all are so fond of.
Our team is grateful for your understanding and patience as we continue to learn and grow together through this pandemic. Also, just a reminder that we will offer fall virtual camper meetups and parent/caregiver support groups, starting in mid-September and registration is now open. In addition, we will host our 2nd Annual Family Care Conference (registration opens next week) and the Interstellar 5K Race (which will follow State of Michigan guidelines for public events rather than guidelines for a health care setting). You can find information about the race and our upcoming fall programs by visiting our Events page.
With gratitude and mooseness,  
Patrick Smith, MA
North Star Reach Director of Camping