Stories from around the campfire.
Discover fresh insights from our staff members, friends, and partners.

Or sign up for our newsletter to get the latest camp news straight to your inbox.
Join Our Email List
---
As we look forward to 2021, we want to share our gratitude for your companionship and support during this unprecedented time. Working together, we are navigating big challenges and celebrating many successes.
We are thrilled to share some of our highlights from 2020, none of which would have been possible without our generous donors, dedicated volunteers, incredible camper families, and all our camp friends.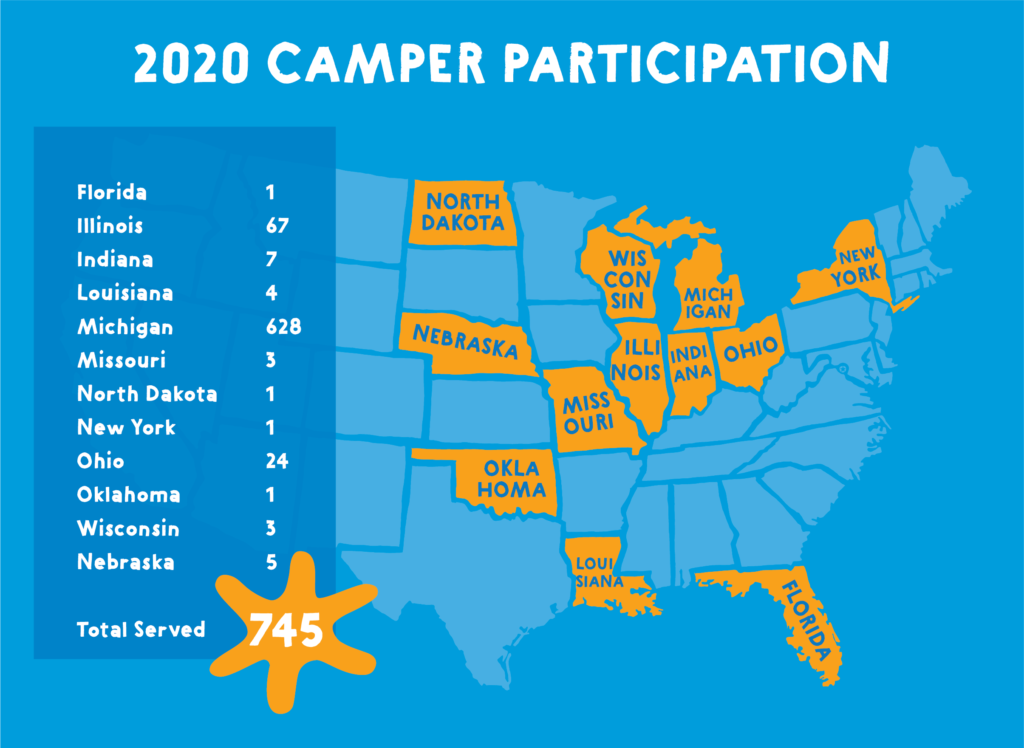 PINCKNEY, Mich. – As part of strategic sustainability planning on the cusp of its fifth anniversary, the North Star Reach Board of Directors has announced a restructuring plan. Following a data-driven review of operations, the Board has voted to eliminate the role of the nonprofit's chief executive officer. As Michigan's only nonprofit, cost-free, medical specialty camp, North Star Reach will move forward by streamlining its CEO and chief operating officer into a new executive director role.
The decision results in the departure of Founder Doug Armstrong. Stephanie Stahl, the current COO, transitioned into an interim role as executive director effective January 15.
"Over the years, Doug has made innumerable contributions to building a first-rate camp and attracting talented staff who deliver high-quality programming," Board Chair Lisa Schwartz said. "North Star Reach exists because of his extraordinary vision. This was an incredibly difficult decision by the Board to streamline operations, and we are committed to ensuring the financial viability of this young organization so that Doug's dream continues to positively impact the lives of children with serious health challenges for generations."
As part of the duties of the new interim executive director position, Stahl will lead development efforts at a time when North Star Reach must continue to innovate in the middle of the coronavirus pandemic. COVID-19 led to operational pauses across Michigan in 2020, spurring North Star Reach to review how to provide a camp experience in a socially distanced world, and how to generate revenue when traditional fundraising efforts have been disrupted.
"As North Star Reach approaches its five-year anniversary of camp this summer, the Board is confident the organization has responded to the challenges of the COVID-19 pandemic responsibly—and with tremendous creativity and resilience—to continue offering children with serious illnesses and their family members with transformative experiences," Schwartz said.
Stahl brings experience in corporate finance and operations management, having previously worked, most recently, in the field of aerospace engineering. She also holds a master's degree in nonprofit administration and is poised to spearhead many new development initiatives and operational efficiencies.
Despite a necessary reduction in resources in 2020, including the elimination of eight staff positions, North Star Reach has continued to provide high-quality programming to hundreds of children with serious illnesses and their family members.
Beginning in the spring of 2020, the camp's program team worked tirelessly to create innovative, virtual alternatives to in-person summer and family camp programs.
The result in 2020 was an inventive spring, summer and fall season of programming for children and families that allowed more than 700 campers from a dozen states to connect and have fun in safe, secure, online spaces. These community-building and confidence-inspiring experiences are especially important for chronically ill children and their family members, who, even prior to the pandemic, are already living with isolation due to their illnesses.
Over the course of 2020, North Star Reach has also accelerated its offering for parents and caregivers who face increasing isolation during COVID-19. This included a two-day virtual conference last October. More than 100 caregivers enjoyed the chance to connect not only with one another, but with a host of medical and mental health professionals. The organization has also launched a series of online support groups for parents and campers, as well as Family Game Nights and live entertainment events, all with the goal of decreasing social isolation and building a supportive community.
The organization will continue to evolve its virtual camp-at-home offering through the spring, while preparing its facility to safely welcome campers back to in-person camp as soon as possible. North Star Reach's camp programs will continue to be led by director of camping, Patrick Smith, who has more than three decades of experience creating adaptive and inclusive camp programs for children  serious health challenges.
"These organizational changes, coupled with the success of our expanded program offering," Schwartz said, "will allow North Star Reach to emerge from the current health care crisis positioned to ensure the camp's sustainability for years to come."
Media contact: Ami Walsh, Experience Design Strategist/Communications Director, North Star Reach | ami@northstarreach.org | Mobile: 734-846-7262
###
About North Star Reach
Located on 105 scenic acres in Pinckney, Michigan, North Star Reach is a medically supported camp that serves kids with chronic and life-threatening health challenges and their family members, all at no charge to them. Since opening camp in 2016, North Star Reach has delivered more than 3,500 transformative experiences for children with serious medical conditions and their family members from across Michigan, and beyond, totally free of charge. North Star Reach is also a member of the prestigious SeriousFun Children's Network (SFCN). Founded by legendary actor and philanthropist Paul Newman in 1988, SFCN is now a global network of 30 camps and programs for children with special medical needs. As a 501(c) 3 non-profit organization, North Star Reach is independently managed and funded and entirely dependent on private donations to serve every camper free of charge.