You're invited! Join us for our sixth annual "Under the North Star," our signature fundraising event in support of sending children with serious illnesses to camp. Hosted at the beautiful historic Detroit Athletic Club in the heart of downtown Detroit, the exclusive evening will feature a night of inspiration, entertainment and great food. Live and silent auctions will help raise money to send even more kids and their families to our medically-supported camp. Purchase your tickets today!

"Under the North Star" is a gala event that gives new meaning to "glamping" by bringing the fun of camp to one of the Motor City's most glamorous venues, all in support of sending kids with serious health challenges to North Star Reach. Since 2014, our annual gala has brought together celebrated entrepreneurs, business owners, philanthropists, and civic leaders. Since its beginning, the event has raised significant financial support to ensure the life-changing camp experiences offered to hundreds of children and their families each and every year remain free of charge.
---
Under the North Star — September 13, 2019
The Detroit Athletic Club, 241 Madison St., Detroit, MI 48226
5:30 – 6:30 pm: VIP Reception (Lobby/Reading Room)
6:00 – 7:15 pm: Cocktail Reception w/ Silent Auction (Pavilion)
7:30 – 9:00 pm: Dinner and Program w/ Live Auction & Camp Testimonials (Main Dining Room & Pontchartrain)
9:00 pm – 12 am: Afterglow Party (Pavilion)
---
Please be advised that the Detroit Athletic Club has a formal dress code that is strictly enforced. Some basics are: cocktail attire for women and men must wear a jacket and a collared shirt. No denim allowed. For more information on dress code, click here.

Be part of changing lives and creating a world of good by purchasing an individual ticket or a table today (limited number of tickets and tables available). Make your online payment by visiting our registration page. If you have any questions, please contact us.
Ticket Prices: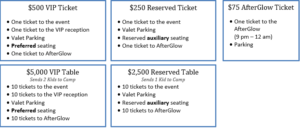 For the seating layout and more information, click here.



To learn more about becoming a sponsor or to request a custom sponsorship package, please contact Sissy Phillips at (734) 680-8744, ext. 516. For the PDF download of our sponsorship tables and benefits, click here.
Ready to purchase a sponsorship? Make your online payment by visiting our registration page.
Sponsorship must be confirmed by June 15, 2019 for inclusion in the promotional event mailing, and by August 15, 2019 for inclusion in at-event materials.

Planning Committee:
| | |
| --- | --- |
| Kate Henry (Co-Chair) | Lisa Schwartz (Co-Chair) |
| Alli Kaplan | Jenny Wiener |
| Laura Jackson | Monica Holmes |
| Kathy Kiehl | Jacqueline Dufek |
| Morgan Broekhuizen | Leora Rubin |
| Elissa Buhr | Traci Menoch-Berger |
| Leanne Chadwick | Seth Broekhuizen |
| Mary Ann Fithian | Stephanie Abughannam |
| Jen Pifer | Tom Wille |
| Monica Philipp | Denise Liebzeit |
| Jeni Sobbry | Nancy Durance |

Patty Jacobs Warner, Director of Development, (734) 680-8746
Louisa Artelt, Associate Director of Development, (734) 680-8744, ext. 505
Sissy Phillips, Development Generalist, (734) 680-8744, ext. 516
Unable to attend but wish to support us?