The Power of Giving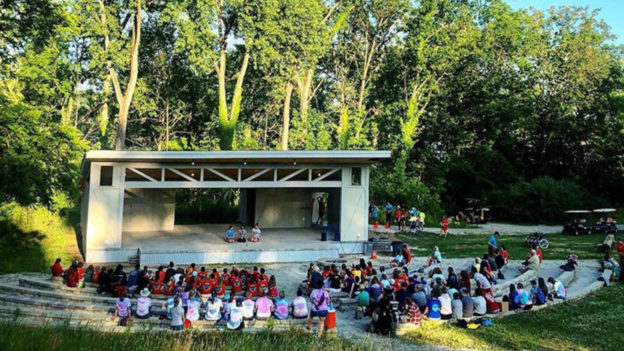 Below, you can read the stories behind some of the donors who contributed major gifts to camp. We are honored to recognize them for many reasons. Their support helped build camp and cover our first few years of operations. And by allowing us to recognize them in such a public way, these named donors provide assurance to our campers and their families that others care enough to invest in their experience.
If you are on a camp tour, you can read more about one of the donors behind our recognition signs. Below are the current donor stories available. If you'd like to read about other donors (not listed below), visit our Transformational Donor Gallery to learn more about the incredible community of generous foundations and individuals who made camp possible. Complete list coming soon!
Founders Entrance
Long before camp even opened, our Founding Donors contributed vital support with a cumulative gift of $2 million or more. Their generosity and dedication will be felt and appreciated for generations to come.  Just inside the main gate, our prominent "Welcome from our Founders" sign recognizes these visionary supporters: The Ted & Jane Von Voigtlander Foundation, The Vera and Joseph Dresner Foundation, Mott Golf Classic and The Jones Family Foundation. Each one is also recognized inside camp, with signage marking one of the elemental areas of camp.
105 Acre Wood
Nearly 10 years ago, when North Star Reach was just a dream, the Ted & Jane Von Voigtlander Foundation made one of the first visionary pledges to our Capital Campaign. The Foundation committed more than just financial support as Gwen Haggerty-Bearden and Steven Bearden joined the campaign leadership committee and shared their passion for our mission with other donors willing to invest. Two years later, the Foundation made a second significant gift to fund the start of camp construction. Their lasting legacy is recognized with the naming of our 105 Acre Wood (inspired by Winnie-the-Pooh's Hundred Acre Wood, home to wise Owl).
Camper Village
With the blueprints for North Star Reach's new home in Pinckney nearly completed in 2012, the Vera and Joseph Dresner Foundation provided a tremendously generous gift that gave us the green light to start construction. The Dresner Foundation is dedicated to supporting children and health issues, making our mission of providing life-changing camp experiences for kids with serious illnesses a perfect fit. With a commitment to "magnify and multiply" its impact, according to Executive Director Virginia Romano, the Foundation's vital support for North Star Reach—which has served more than 1,500 campers in just three years—is making a positive impact on the lives of children with serious health challenges across the Great Lakes. Their lasting legacy is recognized with the naming of our Camper Village.
Sports & Activities Center
With its first generous gift in December 2013, The Jones Family Foundation became a vital founding donor of North Star Reach. As long-term supporters of C.S. Mott Children's Hospital, Wayne and Shelly Jones see our medically-supported camp as an indispensable extension of patient care, helping kids with serious health challenges move from being a "sick kid" to feeling a sense of normalcy. In addition to their own investments, they recruited additional capital donors to ensure camp's founding success. Their contributions are celebrated with recognition signage at our Sports & Activities Center.
Delta Sky Lounge
The Delta Air Lines Foundation has a long history of supporting charitable organizations in the communities where Delta employees live, work and serve. North Star Reach, which is a 30 minute-drive from Delta's hub at Detroit's Metropolitan Airport—was the beneficiary of a significant pledge from the Foundation in 2013. In recognition of Delta's generous gift, our "Delta Sky Lounge" is decorated with a giant mural of a jetliner and features refreshment carts just like the ones used at cruising altitudes. The Delta Sky Lounge is home to our innovative "Story Studio" program, which offers campers storytelling activities, including the chance to record audio stories, create puppet shows and illustrate chapbooks. Delta Air Lines has also been a partner as a major sponsor of our signature events dating back to 2014. We are honored and thankful for Delta's commitment to our mission, which has helped North Star Reach soar to new heights. Their contributions are celebrated with recognition signage at our "Delta Sky Lounge."
Athletic Field
Former University of Michigan offensive lineman and NFL number one overall draft pick for the Miami Dolphins, Jake Long, along with his wife, Jackie, made a foundational gift to North Star Reach long before camp was a reality. In addition to their remarkably generous financial support, the Longs dedicated themselves to hosting our signature gala, "Under the North Star," which helped to build essential momentum prior to camp opening. Camp just "tugged on our heartstrings," Jackie recalls, adding that the joy of giving back was "a dream come true." In honor of Jake's extraordinary athletic career and the couple's dedication to North Star Reach, the Longs are celebrated with signage at our Athletic Field.
Amphitheater Area
For more than 45 years, the Mott Golf Classic (MGC) has been an integral part of the C. S. Mott Children's Hospital family with the goal of advancing pediatric medicine and enhancing care experiences for patients and families at Michigan Medicine. As North Star Reach provides vital camp experiences that are, in many ways, an extension of the hospital setting, MGC saw a perfect fit with its mission to provide exceptional pediatric care experiences in our medically-supported environment.
The organization has provided unwavering support for North Star Reach throughout the years. Rick Bossard, Joe Kryza and the entire Mott Golf Classic Committee donated significant initial funding for architectural renderings that transformed our dreams of camp into a reality. These renderings played a key role inspiring and recruiting other generous donors. MGC has also supported us with an amazing network of in-kind donations that include our IT environment, computer equipment, and technology for our camp and administrative offices. Recognition signage for their incredible contributions are on display by the entrance to our Amphitheater.
Tree House
Established in 1997 and raising over $5M for pediatric rehabilitation therapies, Dance Marathon at the University of Michigan (DMUM) has made tremendous strides for North Star Reach. Inspired by the lack of options available for children with serious health challenges to enjoy summer camp experiences, the student-run organization in 2013 made a substantial initial pledge toward camp construction, with a big portion of the contribution supporting the construction of an accessible tree house. The donations were raised at DMUM's annual "VictorThon," where hundreds of students stand for 24 hours in support of their vision to "create a world where all kids can be kids." We are grateful for their dance moves, compassion, and commitment and for bringing together funding, awareness, and support for our camp and all kids with serious health challenges. Recognition signage for their incredible contributions are on display outside the entrance to our Tree House.
Medical Staff Housing
The Carls Foundation has broadly defined its charitable purposes, but the principal purpose and mission of the Foundation, as outlined by its donor-founder and its Trustees, is children's welfare and preservation of natural areas. The Carls Foundation initially supported Camp Michitanki when it served pediatric patients from the University of Michigan Transplant Center, and it has continued its support of children with serious health challenges at North Star Reach. In support of our partnerships with leading medical health systems throughout the Great Lakes Region, The Carls Foundation invested in the construction of the beautiful and comfortable housing facilities located on the second floor of the Observatory. This is where our medical volunteers reside during their time at camp and stand ready to respond to any medical need that may arise.
The Carls Foundation has invested generously in hospitals throughout the Great Lakes Region, and we are grateful for their appreciation and understanding of the unique role our "hospital in the woods" plays in continuing the healing of our campers' body and spirit. Their gift is recognized with signage at the stairway entrance to our Medical Staff Housing on the second floor of the Observatory.
Transformational Donor Gallery
Click through our gallery below to read about the passionate donors who made camp possible and continue to support camp today.