Camp Provides Real Life Skills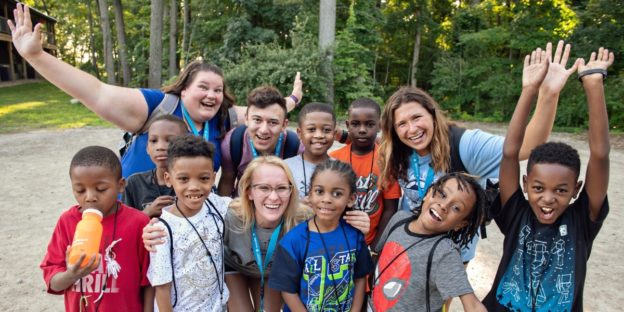 Why You Should Camp with Us This Summer
Looking for a life-changing summer position that will help set you up for success post-college AND make a difference in the lives of hundreds of children with serious illnesses? Consider applying for one of our paid seasonal positions. Not able to commit to the whole summer, but still want to make a difference? Consider applying to be a program volunteer or medical volunteer this summer for one of our six sessions, listed below.
2020 Summer Camp Schedule
June 14 – 19: Transplant (Michitanki) Camp
June 24 – 27: Solstice Camp (for campers aged 16 & 17 who have a diagnosis associated with one of our summer camp sessions)
July 2 – 7: Cardiology Camp
July 12 – 16: Epilepsy (Camp Discovery) Camp
July 21 – 26: Sickle Cell/Hematology/Pain Management Camp
August 1 – 6: Sibling Camp (for brothers and sisters of a North Star Reach summer camper)
What are we looking for in a Program Volunteer? 
Our program team is looking for enthusiastic individuals who can live in and appreciate a rustic (OK, let's be honest here, it's semi-rustic: our camp is brand new), outdoor environment and be a positive adult role model for our campers and families. Learn more and apply today!
What are we looking for in a Medical Volunteer? 
Each camp session is staffed with a team of compassionate volunteer medical staff with experience caring for the camper conditions and families we serve. Camp docs and nurses provide medical support and supervision as well as Band-Aids and bug spray when needed. Volunteering to do your day or night job has never been this much fun! Learn more and apply today!
What are we looking for in our Seasonal team positions? 
Looking for a paid summer experience that is more than just a job? Then consider joining our program team as a Seasonal Activity Specialist, Seasonal Unit Director, or Seasonal Cabin Specialist! The role of Seasonal Activity Specialists is to lead and support engaging, fun activities (archery, swimming, nature…just to name a few!) with campers and staff. The role of a Seasonal Unit Director is to provide support for the Volunteer Cabin Leaders, Seasonal Cabin Staff and campers within your unit. The role of a Seasonal Cabin Specialist is to provide support for the Volunteer Cabin Leaders and to work in partnership with our Seasonal Activity Specialist. This is a three-month paid position. Lodging and meals provided while camp is in session. You will enjoy the "moose" wonderful summer ever! Learn more and apply today!
Thanks to our friends at the American Camp Association, we'll be highlighting some of the "real job" skills college students (and recent grads) can gain from a summer of serious fun.
Skills Cultivated by Camp Employment:
Looking to gain some skills, while making a difference? Camp equips volunteers with valuable skills they can put on their resume! Read below to find out more.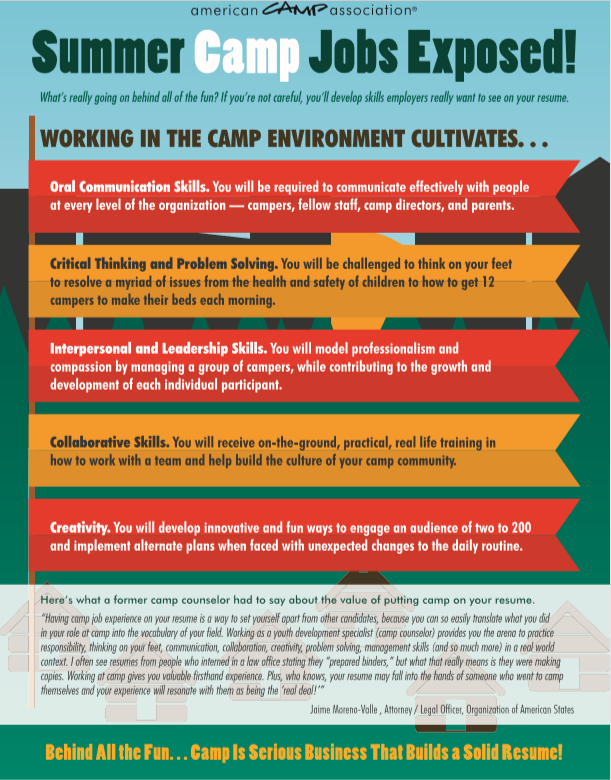 Working at Camp Is a Real Job!
Trying to convince your relatives (or yourself!) that camp really can be a real summer job? Read below to find out about the endless possibilities working at camp provides.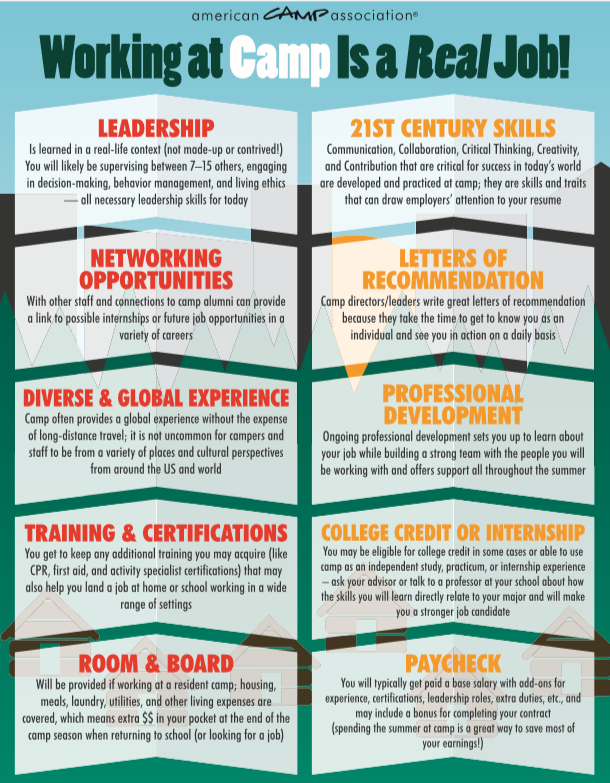 Translating Camp Employment to Your Resume
Looking to add a few "buzz words" to your resume to make it stand out? A summer at camp can help you cultivate those! Read below to find out more.