New Summer Camp Serves Children with Epilepsy

We're thrilled to announce that this summer we'll add a sixth summer camp, hosting children with epilepsy and seizure disorders, thanks to a new partnership with the Epilepsy Foundation of Michigan.
Since 2004, the Epilepsy Foundation of Michigan has hosted Camp Discovery, a medically-supported sleepaway summer camp for kids living with epilepsy. North Star Reach is honored to support the Foundation by adding epilepsy as one of our core summer medical populations.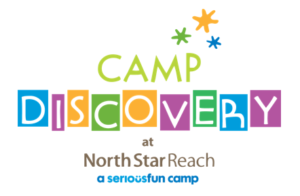 Our new Epilepsy (Camp Discovery) Camp (July 22-26) will welcome Camp Discovery campers, as well as children across the Great Lakes Region diagnosed with epilepsy, ages 7 to 15. Teenagers (ages 16 and 17) with epilepsy are invited to attend our Solstice Camp (June 28-July 1), which hosts teens with a medical diagnosis associated with any of our summer camps.
Applications are now open for all summer sessions—interested families should apply soon by visiting our camp application page. If you have questions about our Summer Camp sessions, you can email our camper recruitment coordinator, sarah@northstarreach.org.
"The passionate and experienced leadership team at North Star Reach, the highly skilled medical staff, and access to extensive training and activity-planning resources through the SeriousFun Children's Network, will help to further enhance the quality of the Camp Discovery experience," said Brianna Romines, Epilepsy Foundation of Michigan President.
"It is an honor to welcome Camp Discovery campers to our growing camp family," said Doug Armstrong, Founder and CEO of North Star Reach. "We're committed to building on the amazing Camp Discovery foundation. Our partnership will provide kids with a truly life-changing camp experience in a beautiful outdoor environment and supported by a first-rate health center and medical team available to support any needed care. As we like to say to all our campers, welcome home!"